News Taffy
News Article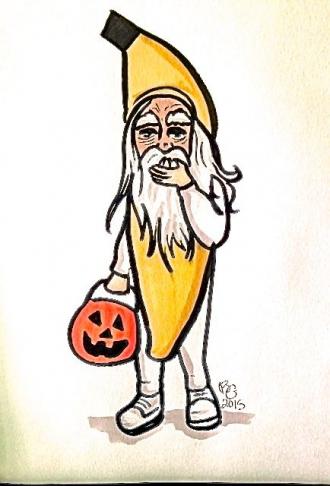 The Occasions Lady and One Ripe Banana
I loved Halloween when I was a kid. It was a different time then. People knew their neighbors and on Halloween night kids dressed up and roamed freely making sure to hit the houses that gave out the best candy. You learned quickly which neighbor was likely to give you a couple of off-brand Tootsie Rolls or a generic sucker, and which houses passed out the good stuff – Reese's Peanut Butter Cups, Snickers, M&Ms.
My favorite costumes as a child were scary ones. Halloween was supposed to be scary (in a fun and harmless way) and I didn't see the point in dressing up like Cinderella or any other sparkly princess on a spooky night. As a parent, I've had kids who chose costumes from one extreme to the other. Adam was Batman most years. We definitely got our money's worth out of that costume because he wore it not only on Halloween for many years, but also at home throughout the year. Emma was my princess, my cheerleader – all things sweet and sparkly before she took an interest in drama and got really creative. (I'll save that for another year.) It was Sophie, however, the youngest of the three, that put together an outfit that will forever make me laugh.
When she was 6 or 7 years old, the two of us went out to look for a Halloween costume. Sophie had no preconceived idea of what she wanted to be that year, which meant we went from store to store searching without any luck. As a last resort, we ended up at K-Mart. While she rummaged through the racks and shelves, I selected costumes that I thought had possibility and presented them to her one at a time. No such luck. Zilch. Nada. Zero. Nothing.
Just when I thought all hope was lost, she showed interest in a banana costume. OK. It would not be my first choice but it was cute and simple enough to put together. I was ready to make the purchase and go home but she continued to search. I turn around to find her wearing an old man's mask with white hair and a full white beard. She looked like a pint-sized version of the old man in The Hobbit. It was a strange look but I wanted her to have the freedom to choose what she wanted to be, within reason of course.
Now, there would be a decision to make – or so I naively thought. Sophie, however, had a different vision. With ounce of her being, she pleaded with me to buy both the banana costume AND the old man's mask. As peculiar as it seemed, there in the Halloween section of Jonesboro's K-Mart, I caved.
It was dark by the time we left the store that night with our assortment of costumes. Sophie, as happy as a lark, grabbed my hand and skipped across the parking lot.
"I think I made a good choice," she said. "It doesn't get any better than an old man in a banana!"
"You're right, Sophie," I said. "It really doesn't."
[+] add comment