News Taffy
News Article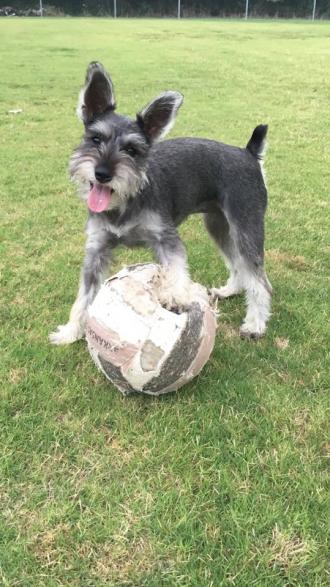 Zoey is a Cutest Pet Finalist!
Congratulations to Zoey! She's a finalist in Jonesboro Occasions 2016 Cutest Pet Photo Contest. Zoey is counting on your votes to win!

Meet Zoey. She is a six month old Miniature Schnauzer that thinks she is a big dog, unless she sees the vacuum cleaner or a plastic bag. She is an energetic, smart and happy girl who brings so much joy to our family. She loves to play with her volleyball. Zoey lives in Jonesboro with the Inzer family. (owners Derick, Tina, Skyler, and Rachel Inzer)

A big thank you to everyone who submitted a photo to our annual Cutest Pet Photo Contest. It was very difficult to narrow down the submissions. After careful consideration, we decided on these top 10 local pets; from here on, it's up to you!

IMPORTANT VOTING INSTRUCTIONS: Each of the 10 photos will have its own post on Jonesboro.com. On the bottom of each pet photo post, there is a place to rate it between one and five stars. The winner will be determined by the highest average star score. Voting ends at 5 p.m. on Friday, August 12. All 10 finalists will be published in the August issue of Occasions, and the grand prize winner will be revealed in the September issue.

If you have any questions, please feel free to call us at 870.931.0012, email us at audrey@jonesborooccasions.com or send us a message on Facebook.

Thanks so much, and good luck to all our finalists!
[+] add comment