News Taffy
News Article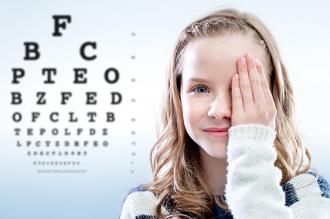 The Cardiologist's Wife - Children's Eye Care
As a parent, one of your most important duties is to look after the health of your children. While your child may be able to tell you if they aren't feeling well, they may not be able to communicate that they don't see clearly. Regular eye exams are important as eyesight affects their overall development.
Difficulty seeing can affect a child's eye/hand or eye/body coordination and social skills. Vision and learning are strongly linked so if your child has problems in school like paying attention, working alone, becomes easily frustrated, forgets to do homework or refuses to read, poor eyesight may be the problem. Getting off to a poor start academically sets your child up for a life time of struggling in school which is one of the best reasons to get their eyes checked early. Children with poor vision often have difficulties socially since they struggle to recognize facial cues and emotions, which is important to understanding social interactions appropriately.
New borns should be checked for general eye health by a pediatrician and have continued routine screenings during checkups in the first year of life. Around age 3, experts recommend a more comprehensive eye screening with visual acuity tests with either their pediatrician or an eye doctor. At age 5 or before kindergarten, kids should have their vision and eye alignment checked. After that, routine screenings should be done at school or with their primary care physician. If problems are present, they can be referred to an eye doctor for further tests.
There are several professionals who treat vision so it can be confusing as to who does what. Ophthalmologists are medical doctors who can treat any eye problem; they can prescribe medicine or perform surgery if needed. Optometrists have attended optometry school but are not medical doctors. They provide many of the same services as ophthalmologists but don't perform surgery while opticians are technicians who fit and adjust glasses. There are also pediatric ophthalmologists and optometrists who specialize in treating children.
Signs that a child is having problems with his or her vision include: constant eye rubbing, extreme sensitivity to light, poor focusing, lacking the ability to follow an object with their eyes, abnormal alignment or movement of the eyes after age 6 months, chronic redness or tearing of the eyes, being unable to see objects at a distance, trouble reading the blackboard or signs along the road, squinting, difficulty reading or sitting too close to the TV.
If your child needs glasses, be positive and remind them how great it will be to see clearly. Let your child pick his or her own frames within reason but remember, plastic frames are better for kids under 2. If you pick metal frames, make sure they have spring hinges which are more durable. Polycarbonate lenses are best for all kids especially those who play sports as they are tough, shatterproof and lightweight though they do scratch easier. Before considering contacts, kids need to be at least 10, able to insert and remove them properly and clean them as recommended. Problems with contact lenses are most often due to poor hygiene. You may have to remind your child to wear the glasses at first until they become used to them and enjoy seeing better.
Set a good example, make sure you get your eyes examined regularly!
[+] add comment