News Taffy
News Article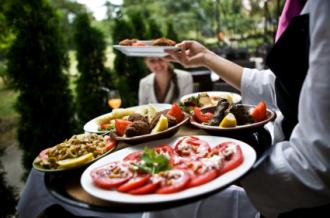 The Cardiologist's Wife - Healthy Options When Dining Out in Jonesboro
If you want a healthier option when you are dining out, I hope you have tried The Stem and Spoon inside the The Truck Patch grocery store on Southwest Drive, Thai Taste on East Johnson and The Parsonage 322 on Main Street in downtown Jonesboro. One of my main complaints when eating out is that restaurants skimp on the veggies or don't use locally grown produce. I also like an inventive menu with something to tempt my taste buds. These three restaurants rise to my expectations by delivering delectable food, using locally grown fresh ingredients when possible, all at very reasonable prices.
The Stem and Spoon has a great salad bar. Who wouldn't want to eat their veggies when they taste this good? I love the small red Persian peppers, the kale and couscous salad, the roasted garlic and the marinated mushrooms. Stem and Spoon also has a variety of interesting sandwiches like the portabella mushroom sandwich with goat cheese and even hamburgers. They also serve plate lunches. Barry and I had the Swedish meatballs with red cabbage - DELICIOUS! - and very filling. I'm sorry to say I missed the Red Bean Dahl and the Stewed Beef served over Pumpkin Parmesan Polenta. While you are there, you can do your grocery shopping before leaving. How convenient is that?
Thai Taste is another gem here in Jonesboro. These people understand how to cook vegetables. Every dish we have tried has come with a variety of beautifully cooked vegetables. Two of my favorites are Pra-Ram, steamed spinach, broccoli, green beans and snow peas with your choice of meat or tofu in a creamy peanut sauce and the Grilled Sea Bass, spinach, asparagus and carrots in a ginger sauce with a lovely piece of fish on top. They also make the dish as spicy (or not) as you wish so everyone can be happy with their dish. They have an extensive menu of Asian and Thai dishes so you are sure to find one to your liking.
The Parsonage 322 got its start in Marion but made the move to Jonesboro about 2 years ago. Marion's loss is Jonesboro's gain as Chef John Myers has been turning out the best in farm to table food ever since. The atmosphere is funky and the food is imaginative. Chef John likes to use whatever is in season so there's no telling what the daily special will be. On recent visits, the soup of the day has been outstanding (I had corn beef and 15 bean yesterday and a very spicy Kim Chi soup a couple of weeks ago). I'm also a big fan of the Wyngatte - house made pimento with candied pepper bacon on the Parsonage's toasted cheddar bread and the barbecue wrap served only on Thursdays. The Parsonage is open for dinner on Friday nights and serves wine and beer. I hear the brownies are to die for but of course, I wouldn't know…….
If you are looking for a new lunch spot or something different for date night, give one or all three of these a try. I may never cook again!
[+] add comment