News Taffy
News Article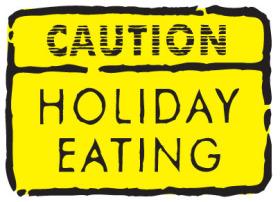 The Cardiologist's Wife - Healthy Holiday Eating Tips
Many of us struggle with health issues directly tied to eating and with Thanksgiving this week quickly followed by holiday parties and Christmas, it can be a difficult time of year. Some conservative estimates reveal that a typical Thanksgiving meal has well over 3000 calories, more than most of us need to eat in a whole day! You can have a good time and not stress about your situation if you take some time to formulate a strategy now.
It is never good idea to skip breakfast or lunch in order to "save" calories. The truth is you will be even hungrier and with low blood sugar, you are more likely to make bad nutritional choices. Eat some protein and something with fiber like an apple at breakfast to keep you satisfied until the big meal.
Check out the entire spread and make your choices, picking only your favorites or those things you only get once a year. Skip the bread unless someone brought really good homemade bread, then limit yourself to one piece. Cut back by choosing dressing or mashed potatoes, not both and opt for plainer vegetables. Drink water or plain tea to save even more calories as punch, hot cider, alcoholic drinks and sodas are laden with sugar and calories. Limit yourself to 2 tablespoons of gravy or cranberry sauce and chose white meat without the skin. Keep your portions small, no seconds and don't wear loose clothing which allows you the room to stuff yourself more. Chose just one dessert and make it a sliver, not a wedge.
During the day, visit with family and friends to take the focus off eating. Talking with others will help you to remember to eat slowly so your body has time to register when it's full. Weather permitting, get everyone outside for a pre or post dinner walk. Even better, get a flag football or dodgeball game going. You'll score points for keeping the younger guests entertained this way.
If you are doing some or all of the cooking, trim the fat and sugar in the dishes you prepare by baking the turkey, using fat free chicken broth, less butter, oil and even sugar where you can. Make the jello salad with sugar free gelatin for example or try a new recipe. Instead of the marshmallow, sugar bombed sweet potatoes, make a savory sweet potato dish such as chipolte mashed sweet potatoes.
Don't feel pressured to eat. If Great Aunt Sue wants you to try her famous macaroni and cheese, politely say no. If you are uncomfortable with saying no and hurting her feelings, take a spoonful and push it around on your plate so it will appear you've eaten it.
If you have food allergies or if you follow a special diet, ask if you can bring a dish or two so your host doesn't have to prepare extra dishes. That way, you know you will have something safe to eat. As a good host, a couple of plain steamed or roasted vegetable dishes seasoned with herbs and olive oil are probably safe for most anyone. A little communication goes a long way to preventing a serious mishap or hurt feelings so be upfront but non judgmental about other's dietary decisions.
[+] add comment