News Taffy
News Article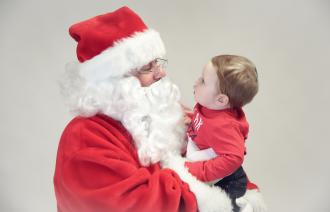 The Occasions Lady and Santa Rodney
Shortly after Thanksgiving each year, the bright red suit and matching hat with fur lining, the shiny black belt and black boots magically appear at our house. That can only mean one thing: Santa Rodney is on a mission.
One of Santa's many helpers, Santa Rodney first began standing in for the jolly old elf during photos for Occasions advertisers a few years ago. He quickly learned that it can be sweltering when you are wearing a Santa suit in Northeast Arkansas in October. Regardless, he was a good sport. Once you don the red suit, you've got to finish the job. You can't take off the fluffy red jacket in public just because it's nearly 80 degrees outside. There's too much at stake and Santa Rodney is not going to be the one to ruin anybody's Christmas.
In recent years, Santa Rodney has stood in for Santa at Jonesboro's Winter Wonderland. While the Occasions staff volunteered to work the holiday attraction, Santa Rodney visited with children, talked about their wish lists and passed out candy canes.
Last year, our niece, Leah, asked if Santa Rodney would take photos with her daughter, Stella, when they traveled from Virginia to Jonesboro for Thanksgiving. With the help of Jonesboro photographer Melissa Donner, Leah and her husband, Ross, used the photo session to announce that Baby Charlotte "Lotte" would arrive in July 2017. Even though we were on hand for the photo session, the announcement still came as a complete surprise to us.
This year, I arranged for Santa Rodney to have photos with our grandson, 10-month-old Mason, while he and his parents were here for Thanksgiving. With Melissa's help again this year, Santa Rodney was able to don the red suit and have once-in-a-lifetime photos made with Mason before his first Christmas.
I've often said being married to Rodney is a lot like traveling through life with Santa. Regardless of where we are or what we are doing, children appear out of nowhere to smile at him or make contact in some way. Once, while we were having lunch at Demo's, I looked up and a young boy was busy showing Rodney his bandaged finger while sitting in a highchair at a nearby table.
I may not wear the matching red dress and make official appearances with Santa Rodney, but whether it's summertime or Christmastime, I think Mrs. Claus and I have a lot in common.
[+] add comment