News Taffy
News Article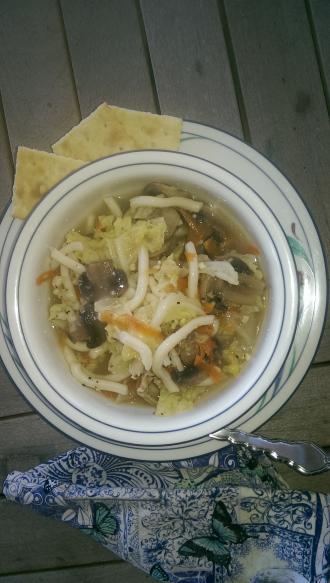 The Cardiologist's Wife - Sick
Chicken soup actually does make you feel better. Though scientists aren't exactly sure what it is in chicken soup that does the trick, studies which have shown that chicken soup does have a small but measurable effect in alleviating symptoms. Researchers believe soup reduces inflammation in the upper respiratory system, thereby helping the body rid itself of infection and easing your achy, stuffy head, sneezing and coughing. A bowl of soup with plenty of broth helps you stay well hydrated which thins secretions, allowing your airways to clear. You might not realize that a fever can cause your body to lose extra water, possibly leading to dehydration, nausea and even worse fever. At the least, chicken soup offers a comforting, nutritious option when you are feeling your worst and have little appetite.
Since the flu season is raging, and other upper respiratory ailments are making the rounds, I'm sharing a recipe with a bit of a twist on traditional chicken soup. Fortunately, my husband and I haven't been sick, but I tried this recipe last week and we both thought it was delicious.
Asian Chicken Soup with Udon Noodles
3 or 4 chicken thighs or 1 large breast
32 ounces chicken broth
1 14 ounce package Udon noodles
1 Tbsp. minced fresh ginger or 1/2 tsp. ground ginger
1 tsp. garlic powder
1 Tbsp. soy sauce
1 lime, quartered
1/2 small head of Napa cabbage, finely shredded
1 package fresh mushrooms, sliced
1 cup shredded carrots
1/2 cup chopped green onions
1/2 cup chopped fresh cilantro
Black pepper to taste
Boil chicken in broth until done, about 20 to 30 minutes. Remove chicken from broth, discard any bones and chop or shred the meat. Set aside and keep warm. Add ginger, garlic powder, soy sauce, cabbage, mushrooms and carrots to broth and bring to a boil. You may need to add extra water or broth to cover the vegetables adequately. Cook about 10 minutes or until vegetables are tender. Break Udon noodles apart with your hands and add them along with the chicken to the pot of vegetables. Cook until just heated through, about 2 minutes. Top each bowl with green onions, cilantro, black pepper and a squeeze of lime juice. Makes about 6 servings.
Udon noodles have a thick and satisfying texture plus they are already cooked so they just need to be heated before serving, reducing cooking time. I recommend using bone broth for that extra bit of nutrition and flavor as bone broth is rich in minerals that bolster the immune system and repair gut health. If you want a little extra color in your soup, try red cabbage instead. You can also add other vegetables that appeal to you such as snow peas or English peas.
One last thought: never underestimate the healing power of love that goes into making a pot of chicken soup for someone who is sick.
[+] add comment