News Taffy
News Article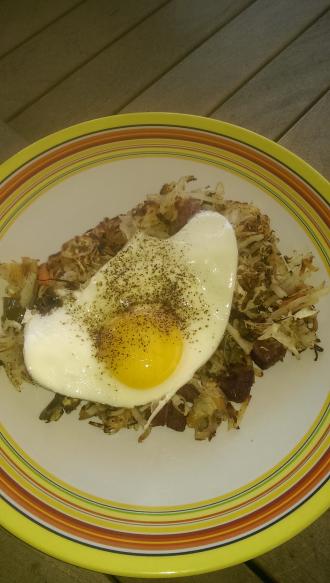 The Cardiologist's Wife - St Patrick's Day Recipes!
Saturday we get the chance to celebrate all things Irish so find your lucky four leaf clover, your favorite green shirt and kiss the Blarney Stone. Some communities go all out, dying their river green, holding a big parade and feasting on traditional Irish foods, not to mention drinking green beer. I enjoy a good holiday as much as anyone but I'll be skipping some of those activities and concentrate on eating something good.
If there is one thing I can't cook well, it's the traditional Irish dish of corned beef and cabbage but I do enjoy it. Instead, I have found a much simpler substitute to satisfy our craving. I like this dish because it's loaded with vegetables and is quick to prepare. Did I mention that it tastes really good?
Get a quality brand of corned beef at the deli counter, just have them give you an 8 oz. thick slice. Obviously you can use leftover corned beef if you have some or you can substitute ham. This dish is good with or without the egg but the egg just adds the finishing touch. If you are feeling up to it, bake a loaf of Irish Soda bread to go with it.
Corned Beef Hash
2 cups chopped or diced corned beef or ham
2 cups frozen hash brown potatoes
3 to 4 cups shredded cabbage with carrots (coleslaw mix works)
1 onion, chopped
1 bell pepper, chopped
2 cloves garlic, minced
1 Tbsp. freshly chopped parsley
1 tsp. pepper
1 tsp. salt
1 to 2 eggs per person

In a large non stick skillet, heat 1 Tbsp olive oil over medium high heat. Add onions and bell pepper, sautéing until nice and brown, about 7 minutes. Remove vegetables from pan and keep warm. Using the same skillet, add another tablespoon of olive oil and heat again. Spread hash brown potatoes in a single layer and cook undisturbed until just beginning to brown, then add shredded cabbage, stir and continue to cook, stirring frequently, until lightly browned. Add garlic and cook one minute more. Return the browned onion and bell pepper to the pan, along with the corned beef, salt and pepper, heat through. Make a well for each egg in the hash and crack an egg into the well. Cover the pan with a lid, reduce the heat and cook until the eggs are set or have reached the desired degree of doneness, about 5 to 7 minutes.

Irish Soda Bread
4 cups all purpose flour
4 Tbsp. white sugar
1 tsp. baking soda
1 Tbsp. baking powder
1/2 tsp. salt
1/2 cup margarine, softened
1 cup buttermilk
1 egg
1/4 cup butter, melted
1/4 cup buttermilk

Preheat oven to 375. In a large bowl, mix flour, sugar, baking soda, baking powder, salt and softened margarine. In a separate small bowl, whisk together 1 cup buttermilk and the egg; add to the flour mixture and mix well. Turn dough out on a lightly floured surface. Knead lightly. Form dough into a round and place on a baking sheet. Combine the melted butter with the 1/4 cup buttermilk and brush on top of the loaf. Using a sharp knife, cut an X into the top of the loaf. Bake 45 to 50 minutes or until a toothpick inserted into the middle comes out clean. Check for doneness after 30 minutes. You can continue to brush the top with the buttermilk mixture as it bakes. You can also add a cup raisins or 1 Tbsp. caraway seeds if desired.
[+] add comment