News Taffy
News Article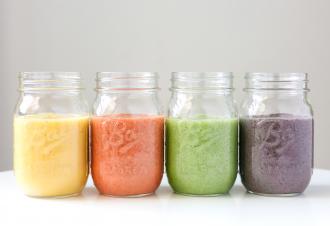 From The Cardiologist's Wife - Healthy Smoothies
The alarm goes off at 6:30 and you and your spouse jump out of bed. You grab a shower while he wakes the kids and makes sure they get dressed. He starts making their lunch which you finish so he can shower. The kids eat Pop-tarts while you down a cup of coffee then its out the door. You drop the kids off at school before skidding into work. About 10, your stomach is growling uncontrollably and you are so hungry you can't think so you grab a granola bar to hold you until lunch. You eat Ramen noodles and drink a Diet Coke during a staff meeting. Later in the afternoon, you feel wiped out and fuzzy headed. If this sounds like a typical workday for you, you are not alone.
Sometimes we forget our bodies and brains need fuel or food to function. The lack of proper nutrition is robbing your body of energy and brain power leaving you drained and unable to work. If you feel you don't have time to cook breakfast, why not try making a smoothie? I'm not talking about a sugar laden bomb you grab at a drive thru. I'm talking about a nutrition packed smoothie made at home so you know exactly what goes in it. A smoothie is a great way to combine breakfast and lunch into one convenient meal when you have a hectic day ahead. It's portable so you can take it to work and sip on it throughout the morning.
A smoothie packed with protein and fiber helps keep your blood sugar stable, improving your mood and gives your brain the fuel it needs so you can think. A smoothie can help ease digestive problems like heartburn and constipation as well. Just skip the sugar and load up on fiber, fresh fruits and vegetables and a healthy source of fat.
Here is a recipe for a 1000 to 1400 calorie smoothie which is meant to replace two meals. Your kids will most likely enjoy a smaller smoothie for breakfast and won't even notice the veggies you put in it. You can pick and choose which ingredients to add. At night, serve a regular dinner with lean protein and vegetables. Give your body the nutrition it needs and see if you don't notice the results.
Base - pick one
2 cups milk, milk substitute, vegetable juice or 100% no sugar added pomegranate or grape juice
Protein - pick one or more in combination
1 to 2 Tbsp. nut butters, 3 ounces of tofu, 1/2 to 1 cup Greek yogurt or low fat cottage cheese, 1 to 2 Tbsp. chia seeds
Fruits and Vegetables
1/2 of an avocado
1 cup blueberries, blackberries or raspberries
1 cup of your favorite fruit like kiwis, strawberries, apple, banana or pineapple
1 cup of spinach, kale, cucumber

Additional nutrients
1/4 cup ground flaxseeds (adds fiber and healthy fats) 1 Tbsp wheat germ 2 tsp. cinnamon, turmeric or ginger
Mix ingredients in a blender until thoroughly blended. Add more milk or juice as needed to thin the smoothie if it is too thick.
Once it is all blended, you will not taste the spinach, kale, tofu or avocado. You can also add 1/2 tsp. to 1 tsp. of turmeric for its antioxidant and anti-inflammatory properties and not notice the taste. Freeze the fruit if you like an icier smoothie, unfrozen will be creamier.
[+] add comment