News Taffy
News Article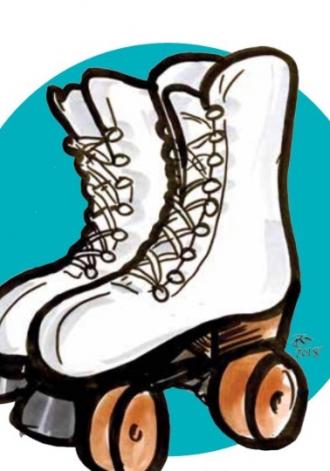 The Occasions Lady and A Vintage Pair Rollerskates
It's funny how seeing something simple from your past can transport you back in time so quickly.
We were close to wrapping up the October issue last month when an advertiser brought items in to the office to be photographed for the fall fashion section. As Emilee Gill, owner of a new vintage store in Downtown Jonesboro, was showing items to Occasions Art Director Brittney Guest, I looked on from the doorway. One by one, she pulled out items from her stash – a retro blouse, vintage jeans, a few beaded purses and a fabulous pair of vintage white roller skates.
Although I was too young to go to the skating rink alone at the time, we lived just a few blocks from the only skating rink in town for many years. Maybe it was the smell of vintage leather or the feel of the rubber wheels, but those skates that were brought into the office took me straight back to the early '70s.
Later that evening, I found myself singing a song that is nearly as old as I am – "Knock Three Times" by Tony Orlando and Dawn. The song, which rose to number one on the charts in January 1971, is about a guy who falls for his downstairs neighbor. She doesn't know him, but he obsesses over her and leaves her a note one day with an elaborate plan to pursue a relationship. In the song, she is instructed to knock three times on the ceiling if she wants him, and to bang twice on the pipe if not.
The song had nothing to do with skating, but it had a chorus that was perfect for stomping your skates on the floor and was very popular with the older teenagers that I idolized at the time. Here's the chorus (with rhythmic stomping included):
"Oh my darling, Knock three times (stomp, stomp, stomp) on the ceiling if you want me. Twice on the pipe (stomp, stomp), if the answer is no. Oh my sweetness (stomp, stomp, stomp) Means you'll meet me in the hallway Twice on the pipe (stomp, stomp), means you ain't gonna show."
I was only 4 years old when "Knock Three Times" was released, but I will always associate it with the fun times we had at the skating rink in Walker Park. In the middle of a very hectic week in September, that simple pair of vintage white roller skates took me back four decades and had me happily singing a number one hit from 1971 for most of the day. That is pure retro magic.
[+] add comment