News Taffy
News Article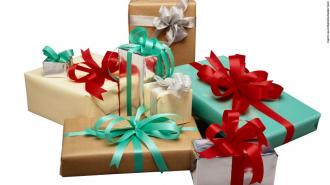 The Cardiologist's Wife - Healthy Holiday Gift Giving Ideas for Kids
By now you may have seen my annual healthy gift giving guide in the December issue of Occasions magazine. American kids don't get nearly enough exercise so I decided to continue my gift giving guide for children. Please consider giving the children in your life a gift that keeps them active so they will enjoy a second gift - better health. I wish some of these things had been around when my kids were younger; they would have loved them.
A bilibo is one of the simplest, yet cleverest toys I've seen. It's hard to describe exactly what a bilibo is so google it for better understanding. Basically it is a shell shaped, hard wearing piece of plastic that can be anything your child's imagination can dream up - from a sled to a spinning toy to a scoop for sand. Bilbos can be found for $30 on Amazon. Stimulating, creative play for ages 2 to 7 or 8.
Speaking of sleds, why not give a sled for Christmas? That way, if there is any snow, your little one is ready. Can be found in a variety of sizes, shapes, colors and price points online and perhaps at local stores. No kid should miss out on the fun of sledding.
A Razor RipStik Caster Board acts like a skateboard/snowboard hybrid. Great for developing coordination and balance. Ages 8 and up. Can be found on Amazon for $70 or in local stores that carry toys. Add a helmet for safety.
Playhuts are a wonderful gift to encourage exploratory, imaginative play for ages 12 months to 8 years. Playhuts are pop up play tents and tunnels that come in a variety of shapes, sizes and themes like Paw Patrol, Thomas the Tank Engine or Disney princesses. Can be found at Wal Mart, Target and online, starting at $17.
Rody Ponies are super strong, ride on bouncing toys for ages 18 months up to age 8. They're durable and cute, improve balance and coordination and can play a role in pretend play. Rody Pony comes in several colors and can be found on Amazon for about $50.
One of the fastest growing and most affordable sports in America right now is disc golf. The whole family can get involved but this is a great sport for teens who just want to have fun with their friends. A beginner's disc starts at $10 and can be found locally at most retail stores that carry sporting goods.
Get the tweens and teens outside and moving with Slimeball Dodgetag. This version of dodgeball is played with slimey feeling balls which the players throw at their opponent's sticky target vests. Prices start at $15 and can be found at Target, Barnes and Noble and Walmart.
Older teens may enjoy a game of Spikeball, a new sport that is a cross between volleyball and four-square for four players. A Spikeball kit includes a playing net which resembles a small trampoline, 3 balls, drawstring bag and a rule book. Can be found for about $60 on Amazon; locally at Academy Sports, Wal Mart or Target.
[+] add comment