News Taffy
News Article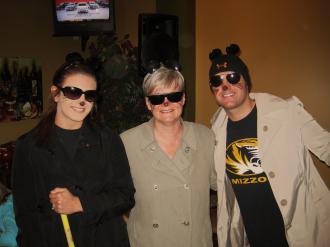 Vicki's Award-Winning Chili Recipe
Last weekend, team Occasionally Chilly (a.k.a. Occasions Publishing Group dressed as the three blind mice) took the Polar Bear Plunge. As an additional aspect of this year's event, there was a Chili Cook-off during the post-plunge party, so Occasions' own Vicki Nutt decided to take part. Her Three Bean Deer Chili won second place in the competition, and lucky for you, she has generously decided to share her award-winning recipe on Jonesboro.com. Enjoy!
Three Bean Deer Chili
INGREDIENTS:
2lbs ground deer meat
1 onion chopped
2 tbs chili powder
1 pkg chili seasoning
1 tsp minced garlic
salt/pepper to taste
2 cans dices tomatoes
1 can rotel
1 can chopped green chilies
2 cans pinto beans
2 cans dark red kidney beans
2 cans black beans
Cumin (to taste)
1 can of beer
DIRECTIONS:
1.  Put meat, onion, garlic, chili seasoning and chili powder into a skillet to brown meat & soften onion.
2.  Transfer to a large pot and add can of beer. Let simmer for at least two minutes.
3.  Then add diced tomatoes,  rotel, chopped green chilies,  pinto beans, dark red kidney beans and black beans. Season with cumin, season salt and pepper to taste.
4.  Let simmer on low heat for2 to 3 hours, then serve.
[+] add comment
I had no clue how much fun this event could be! We may have to become annual participants!