News Taffy
News Article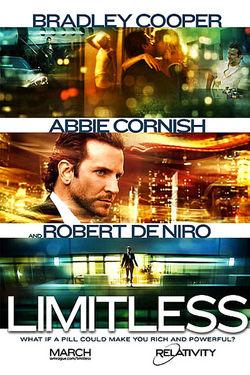 Movie Review: Limitless
(Spoiler Alert: If you want to find out more about the movie without reading too much about the plot, head here instead.)
Last weekend, after hearing rave reviews from almost everyone we talked to, my husband and I, along with two other couples, headed to Malco to see Limitless. Although I thoroughly enjoy a good movie, these days, it has to be a really great film for me to see it in the theater; after all, it will be out on Blu-ray before we know it, right? I am pleased to say that Limitless did not disappoint.
In Limitless, Bradley Cooper stars as Eddie Morra, a disheveled and unmotivated writer who suddenly has a new outlook on life after running into his former brother-in-law, a soon-to-be-dead drug dealer who happens to have a huge stash of a new experimental drug called MDT. This designer drug allows Morra to access 100 percent of his brain, making him a focused force to be reckoned with. Morra's MDT-enhanced persona is suddenly able to author an insightful novel, decode the world of finance and win back his girl (Abbie Cornish). What he can with his newfound intelligence and focus is "limitless," or so the movie leads you to believe.
Cooper proves that he's good for more than just his dazzling smile and Hangover-esque humor, and as always, Robert De Niro delivered a memorable performance. His turn as Carl Van Loon, a business mogul who puts his trust in Morra to orchestrate his company's epic merger until more MDT drama gets in the way of the merger and the business relationship, took me back to the De Niro of the Goodfellas days.
My biggest complaint with this movie – and the ladies might agree with me on this – is that even when he's in his most-polished form, you never truly see the ruggedly handsome as-seen-in-The Hangover Bradley Cooper. Sure, the whole homeless man look is supposed to represent the artistic writer in him (as a writer who actually brushes her hair, I don't like what this implies, but that's another story), but the politician's helmet of hair that the movie leaves us with isn't much better. As long as you can get past some of the technical impossibilities and unanswered questions that the movie leaves you with, it's an enjoyable and imaginative thriller that makes for an enjoyable date night.
The bottom line? I'd give this action-filled film a B+. (Coming from me, that's a pretty good rating; I save the A's for classics like Boondock Saints and the Bourne trilogy.)
[+] add comment