News Taffy
News Article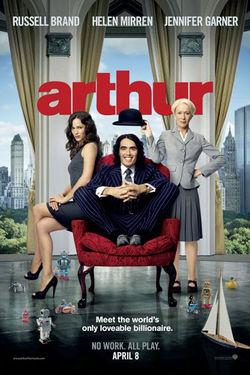 Monday Popcorn: Arthur
Greetings blog-readers, and welcome to Monday Popcorn! (Disclaimer: This is my first Jonesboro.com Blogroll post, and I'm new to the blogging world in general, so take it easy on me, k?) Like any woman, I love to hear myself talk and all, but this blog was started out of pure necessity. You see, some months ago I developed a new movie-watching habit that involves a religious trip to the theater every Sunday night…and yes I said Sunday, you'll find out why later. Anyway, my friends, family and coworkers took notice of the habit, usually over Monday morning coffee and emails (or facebook statuses, right Mother?) and started to ask me, "what did you see this week??" which then lead to the next obvious question, "how was it?" So I decided I should start a blog for what I call "normal people" movie reviews. And by "normal" I mean you won't hear information about Oscar nods, director of such-and-such, and camera angles. No….here, we only talk about the good stuff: how funny it was, how awesome it was, how scary it was….or how much it totally sucked. You'll get a post here every Monday with my thoughts on "this week's movie" and a rating to go along with it (more on that later too). The only direction I will give you is this: feel free to DISAGREE! These are just MY opinions, and I'm no film expert! I just like what I like! That's it in a nutshell my friends; shall we get started? GREAT!
This week I took a departure from my normal Sunday-watching habits, and my BFF Cathy and I ventured out on Friday night to see Russell Brand's new comedy Arthur. Click here to watch the trailer. First things first…one microsecond into the parking lot of the Malco on a Friday night further confirmed my feeling that Sunday is THE night for movie-going. EEESH. Anyway, if you don't have time to read the full review, read this: this movie is surprisingly and completely adorable. I know, I'm as shocked as you are!!
The movie's cast includes Russell Brand (he's been in a handful of movies but most know him as "Katy Perry's husband"), Helen Mirren, and Jennifer Garner. Basically you've got Arthur (played by Brand), son of a go-jillionaire powerwoman who practically owns New York City, who is given an ultimatum after a night of partying gets wildly out of control. Mommy thinks the only way investors will take the company seriously is if Arthur marries corporate-brat Susan (Jennifer Garner), so she gives him a choice: marry Susan or give up your fortune. So we follow Arthur along his journey to make the choice, and ride out the bumps along the way with his nanny Hobson (Helen Mirren), his chauffeur, and an illegal tour guide he MIGHT happen to fall for in the midst of all this. The rest you'll have to see for yourself.
Now, I think most people's first reaction to the thought of this movie is that they're either card-carrying members of the Russell Brand fan club, or they absolutely can't stand the guy. But hear me when I say this – like him or not, I dare you to watch the movie and name ANYONE who would be better cast in this role. The trailer looks kinda hokey to me, but in reality everything about this movie is adorable! It's definitely laugh-out-loud funny without the typical f-bomb one-liners you get in the Will Ferrell lineups, and it's got enough romance to make you say "awww"…but not gag. Girls, it's probably one that your guy won't admit to liking in public (Arthur's not really a man's man), but I promise you he'll stay awake the whole time. Jennifer Garner and Helen Mirren are also perfect matches for their characters, and to be honest I'm not normally a big fan of either of them. SO—survey says: 4 very happy stars. I wouldn't be upset if I got asked to go watch this again, and I'm actually looking forward to laughing at it again when it hits DVD. It's not one I'd put on my favorites list, but in 2 years when I'm doing laundry on a Thursday night and I come across it on TBS or ABC Family, I'll totally watch it.
So that's that my friends; thanks for reading! If you like the review, come back next week for another round and another movie, and if not, enjoy the rest of your day full of facebook-creeping! Also, if you're interested in hearing about other movies I've seen and will see in the future, or you want a full run-down of my rating system (it is VERY sophisticated), visit my blog at http://sundaypopcorn.blogspot.com. Finally – post your comments so I know what you're interested in hearing about!
Remember to help control the pet population – have your pets spayed or neutered!
- Lacey
[+] add comment
Sounds like a "must-see" to me!! I will definitely rent it!
Hi Lacey--I haven't been to the movies in soooo long--I don't even remember when--but your comments stirred and interest in me--maybe I will go and see it!! LOL Nan