News Taffy
News Article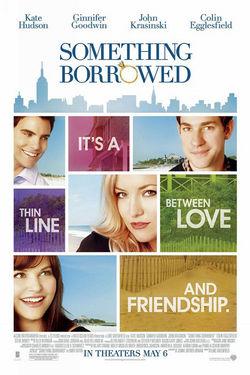 Monday Popcorn: Something Borrowed
I learned something interesting in my weekly theater visit Friday night: somebody somewhere in the movie theater business FINALLY figured out that people will NOT sit in the front few rows of the room if they are literally right under the screen. I know you know what I'm talking about – you walk into the theater, down the tiny hallway, and when the room opens up you immediately look UP, because there's no way on earth you're going to sit "in the front." UNLESS----you are silly enough to arrive at 7:10 for a 7:15 showing of a romantic comedy on opening night and there are more than two people in your movie-watching party. In that case, you and the front rows are bound to get acquainted. What I learned is this: it's really not as bad as it used to be! Like I said, someone clearly figured out that craning your neck for two hours is not most people's idea of a great night, and made a few adjustments so that it's not completely unbearable. That being said, I still have no idea why anyone would go see a romantic comedy on opening night (I can say this because I'm just as guilty of it as you are!). You're just asking for a sold-out show with a room full of people who laugh at stuff that's really not that funny and who manage to eat popcorn in the loudest way imaginable while being blinded by the light of their iphones because they can't stay off facebook long enough to watch a two-hour movie. Thank God my girls and I had a glass of wine before we went.
So this week's movie is Something Borrowed. Based on the book by Emily Griffin, it stars Ginnifer Goodwin (you'll remember her from He's Just Not That Into You), Kate Hudson, John Krasinski (cutie from The Office), and some good-looking no-name guy I've never seen before (he plays Dex). Click HERE to watch the trailer. First things first – book readers, I have not read the book, but my girlfriend Kara did, so I'll share her thoughts with you as we continue.
The plot is simple enough…Dex is engaged to Princess-All-About-Me Darcy (Kate Hudson), whose best-friend-slash-wedding-servant Rachel (Ginnifer Goodwin) has been in love with Dex since law school. Apparently Dex and Rachel had plenty of opportunity to ignite their spark during late night study sessions and celebration dinners, but never made it happen because both of them are equally CHICKEN (even though they are attorneys…hmm.). Anyway, Rachel inadvertently sets Dex and Darcy up, they date, then get engaged. Dex ends up alone with Rachel one night….and that's about all I can tell you! As you can probably predict, the rest of the story unfolds as the characters try to decide if they should uproot their life plans and go in a different direction…with a different person. OOOOH THE DRAMA!
I didn't mention John Krasinski's character above because I loved him so much I wanted to give him his own paragraph. He plays Ethan, Rachel's male (and straight) BFF, and in my humble opinion, he completely steals the show! He's obviously adorable, full of personality, funny, and he sets Rachel straight more than a few times during the course of the movie. He and Darcy also hate each other and it was soooo funny to watch them banter! The charming part is that you can almost sense a TINY bit of caring behind the way he tells Rachel like it is….but the question remains – will he tell her how he feels? You'll have to watch to find out!
Just to let you know, I'm really struggling with a grade for this one. I go to the movies a lot obviously, so I think it takes a little more to hold my attention. For that, I give it 3 stars, meaning it is totally worth watching but I'm not racing to buy it when it hits video. I thought Kate Hudson and John Krasinski both had AWESOME performances, but Ginnifer Goodwin annoys me and the movie is sooooo predictable! Now, before you who have seen it go flipping out, for the average movie-goer, I change my grading to 4 stars. If I was someone who only watched a flick occasionally on a random date night, I would absolutely love it. It's a great mix of humor, romance, and "awww" moments. If you loved movies like How To Lose A Guy In 10 Days or Failure to Launch, you'll feel the same way about this one. Book readers – Kara also liked the movie and said it followed pretty closely, with only a few minor adjustments.
Finally, I have to say I think it's wild how we usually go watch these type of movies for "date night," because I have to say, watching it with my gal pals Cathy, Joanne, and Kara was more fun than any movie date I've ever been on! Plus we had yogurt afterward, and with the girls, you do NOT have to feel awkward about pigging out in front of each other. Just sayin. Speaking of the girls, I hope you all hugged your mommies yesterday – I hugged mine AND made her cupcakes. I am definitely the favorite daughter (see photo).
Happy Monday blogger friends! Need suggestions for this week - I'm highly debating between Thor and Bridesmaids, so help me choose!
Adios Amigos,
Lacey

[+] add comment
Love your reviews...open, honest, and funny as ... well, you know!!! I was debating about seeing this movie...definately will now....dont know if I'll take the hubby tho...probably wait and go see it with the girls, tooooo!! We have a great time at movies like these! (and before the movie, and definately after!) Keep up the great reviews and for your next one.....I dont know if you're a comic fan or not...but as an adult female....and an avid MARVEL AND DC comic fan...........THOR is the choice, but if you're not a fan....be careful with the review.......don't let me down!!!! hahaha As far as the Bridesmaids.....not really lookin to watch that....so your review would be helpful before I spent any $$ on it!