News Taffy
News Article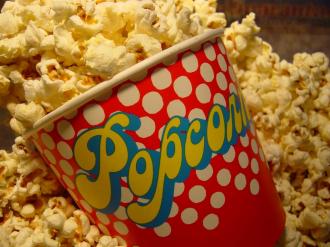 Monday Popcorn: Rental Recap
This Week it's Rental Recap Time!
You may remember from last week that I was ranting incessantly about the lack of skill in the movie trailer-making world…well, this week it was so bad I decided to change course and didn't even make the trip to the theater! Here's the thing. I am officially in sequel countdown mode to The Hangover Part 2 and Kung Fu Panda 2 (both start this week!!) …AND of course, the sequel to end all sequels: Harry Potter and the Deathly Hallows Part 2 (starts July 15). That being said, I just can't seem to get excited about the other junk being released right now. To those of you who are Pirates of the Caribbean fans, I am so sorry, but I only have room for one freaky lead actor in my life, and his name is Russell Brand. I can appreciate that many of you are cult Pirates and Johnny Depp fans, but the images of that eerie Willy Wonka face will be seared into my brain (and nightmares) forever.
The upside to this lull in theater loveliness is that there are some STELLAR blu-ray and DVD picks out there right now! So for this week, we're all going to continue counting the hours until Hangover 2, and I'm going to give you my two-sentence rundown on the best way to spend your redbox dollar! Before that though, a fact for some of you who aren't tragically movie-obsessed: redbox and Netflix get their movies 28 days AFTER their original DVD release date. Example: No Strings Attached hit DVD on May 10, and I KNOW there were more than a few of you standing outside cussing at the redbox outside Walgreens when you couldn't find it. But you probably assumed they were just out of copies. WRONG! You can BUY the movie or rent it at Hastings, but you can't get it through Netflix or redbox until early June. Don't worry, just doing my job…cutting down on redbox temper tantrums is quickly becoming my goal in life. HEHE
So here we go, your rental rundown for the week:
The Roommate – CREEPY thriller movie about a psychologically imbalanced college girl who is obsessed with her roommate. I wouldn't put it in horror movie territory if that's what you're looking for, but it's a good flick to watch if you are NOT in college and do NOT have roommates. If I was in my junior year at Collegiate Park again, I might have slept with a baseball bat by my head after watching. As a very mature 25 year old (HA!), I got really caught up in the movie and I'd definitely recommend it. 3.5 stars.
The Dilemma – Stars Vince Vaughn and Kevin James. One finds out the other's wife is cheating on him right in the middle of a big business deal, and the movie unfolds with his "dilemma" about how and when to tell his friend. They marketed this as a typical Vince Vaughn comedy, and it's definitely full of his quirky ramblings, but it's just not that good. I wanted hysteria, and it gave me just a few chuckles. 2.5 stars.
Country Strong – Stars Gwyneth Paltrow and Tim McGraw. Her character is a recovering alcoholic/drug addict country star whose husband is trying to bring her back onstage a little sooner than she's probably ready for. GREAT soundtrack and definitely pulls at your heartstrings, but it's kinda modern-day Walk the Line with all the depressing twists. Also, I found it to be proof that actors and music stars should STICK TO WHAT THEY KNOW! Gwyneth: you are NOT a singer, and Tim McGraw: you are NOT an actor. Don't burden the rest of us with your identity crises. I give it 3 stars for good music and good story.
No Strings Attached – Stars Ashton Kutcher and Natalie Portman. They're pals who drunkenly hook up one night and decide to essentially become friends with benefits. In typical fashion, one starts to fall for the other, and the mystery unfolds of whether to just stay friends or risk ruining the friendship for something more. I LOVED this movie!! These two have adorable and hilarious chemistry and the movie is a total romantic comedy without all the predictable garbage you normally find in them. 4.5 stars.
Justin Bieber: Never Say Never – STOP laughing. I did watch this movie, in the theater no less, and I thought it was awesome! I was soooo not a Bieber fan before, but after watching his sweet little life story and jamming out to his upbeat tunes, I'm not messed up about saying I have "THE FEVER." The point is this: if you have kids they will adore this movie, and you the parent will secretly like it too. It sounds SO corny I know, and if I hadn't been dragged to the theater against my will I would have never watched it either, but I'm glad I did. 3 stars for adults, 4.5 for teeny boppers and kiddos.
And there you have it! As a bonus, I would like to remind you that you can watch all of these movies for the price of one visit to the box office (Don't you wish microwave popcorn didn't suck compared to its theater counterpart?)! Keep counting down the days to what I'm calling "Sequel Summer" and enjoy filling your Netflix cue with spring's leftovers. But don't forget – BE KIND, REWIND. (this is the part where those of you who remember what VCRs are should giggle, and then thank technology for the gift of digital-chapter-skipping).
Lacey
[+] add comment