News Taffy
News Article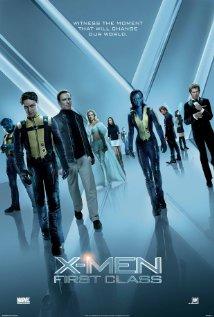 Movie Review - X-Men: First Class
(Spoiler Alert: If you want to find out more about the movie without reading too much about the plot, head here instead.)
Happy Monday, everyone! Lacey will be back next week with Monday Popcorn, but until then, I'm filling in.
Last weekend, my husband and I hit up Malco for a double feature. We have wanted to see Thor for forever, so we decided to check it out before we went to see X-Men: First Class. I give Thor a solid B- in the ratings department; it was a good action movie, and quite frankly, it was better than I thought it would be, but even so, it was no X-Men: First Class.
X-Men: First Class takes us back to where it all started – the Cold War. For those who don't know, this movie is the fifth installment in the X-Men series and is the prequel to X-Men. Director Matthew Vaughn (Kick-Ass, Snatch) begins with a heartbreaking continuation of when Erik Lehnsherr a.k.a. Magneto (Michael Fassbender) was taken from his family by force. From there, we go on to learn about professor Charles Xavier's (James McAvoy) sibling-esque relationship with Raven a.k.a. Mystique (Jennifer Lawrence). At this time, mutants were thought to exist, but they sure weren't walking around in the blue…yet. As it is with most movies in this franchise, the humans end up fearing the mutants, and while some of the mutants want to remain on good terms with the humans, the rest of them spend half their time trying to kill the humans and the other half of their time trying to kill the good mutants.
Overall, I thought the movie was great. It reminded me of why I like the X-Men franchise so much to begin with, and I thought McAvoy and Fassbender did a great job in the two leading roles, and despite the fact that Mystique is usually pretty hate-worthy, Lawrence made her likable at that point in time. The rest of the main cast, Rose Byrne, Oliver Platt, Nicholas Hoult, Zoe Kravitz, Morgan Lily, Bill Milner, Edi Gathegi and yes, even Kevin Bacon, were all memorable, too…with the exception of January Jones.
Jones plays Emma Frost in this installment, and after listening to her deliver her first few lines, it made me thankful that this was the only one that she appeared in. I love "Mad Men," but I have to say, she's my least-favorite character in that, too. Sure, she plays unlikable characters in both the movie and her TV show, but it's her acting that really stinks. If Tara Reid was slightly more classy (although Jones wears some pretty risqué get-ups in the movie), less orange and was paid more, she could be January Jones in the department of acting talent. Speaking of disappointments, Hoult's transformation into Beast was pretty disappointing, but I blame that more on the make-up and lack of CGI than I do his acting.
One of the great things about X-Men: First Class is that it attempts to fill in a few of the gaps that the rest of the movies left us with. We get to find out what made Magneto turn from friend to foe, how Professor X's school got its start and even how the professor became paralyzed. A few more fun factoids are mentioned here and there, and although some border on corny, it's entertaining. There were a few things that weren't quite consistent (First Class made it seem as though Professor X knew about Magneto's blocking helmet from the beginning, but in the first movie, he acts as though he's figuring it out for the first time) and that seemed unlikely (how Mystique went from practically being Xavier's sister in this movie to mortal enemy later on), but I'll get over those.
I have to say, it was a great movie, I highly recommend it, and we'll probably be back to see it again while it's still in theaters. I give it a solid A-, but I wonder, where can they go with X-Men from here?
P.S. – There really isn't anything after the credits. I promise.
-Audrey Hanes
[+] add comment