News Taffy
News Article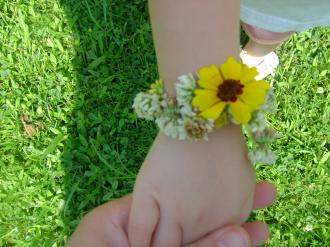 Little Hands: A Childhood Bucket List
This week has been full of calm activities as the heat increases and keeps us moving at a slower pace than normal. Through all this very uncommon peacefulness, I've been pondering about my girls and the lives that they'll lead. There are so many things I hope they experience, but I have no control over other than prayer, but, there are some experiences that I can control.
Through thinking on those, I decided to start a Bucket List of sorts for their childhood. I opened a word document and began the list, adding to it here and there with the help of my husband. The list includes things like for each of them to own a kitten, to ride a horse at a full gallop, to take a long road trip where they'll fight and laugh the whole way there and back, and to pick wild flowers. Some are things that I know will happen, but I just think it's a beautiful thing to cross off, like to have the ocean tide tickle their toes while the sand pulls out from under their feet and to swim in something not made by man (pond, creek, lake). Some are things that I hope will happen over and over, like spending an afternoon baking with their grandmother or chatting and sewing or crocheting with me. To jump off a diving board into their daddy's waiting arms. Isn't our world beautiful?
I can't wait to show them little by little just how wonderful it is. I think I'll eventually make this list into a physical list somewhere in our house, perhaps their room, but it's still so new that I haven't decided what that will look like yet. It's so easy to look toward the future with worry or stress, so why not remind ourselves of how amazing the future will be through the eyes and laughter of little ones?
Hope everyone enjoys the holiday coming up! If you're looking for fun things with your kids, try a few of these!
Splatter paint fireworks - Just dip the end of a straw into a little paint, then blow onto paper! we picked black paper to look like night. Tip: poke a little hole in the side of the straw close to your child's mouth but not where the mouth will cover it. This will keep the paint stuck there instead of going up if your child decides to suck instead of blow...trust me.)
Glow in the dark drinks - Don't panic like I did, it's just the cup...hehe. 
Popsicle stick American Flags - Head here to check those out. 
Tape bracelets or crowns - We just put a piece of tape sticky side out around her wrist and then taking flowers we found (wild of course ;)) and stick it to them to make bracelets. great for day time summer family get togethers.
Until next time,
Heather
[+] add comment