News Taffy
News Article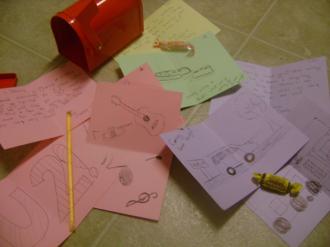 Letters to Little Hands
This coming week will be much different for our house. My husband and I are leaving today for Chicago to spend a few days and see U2 in concert. Though we've seriously been counting down the days until we leave for months, as the last night came to a close and we tucked our girls into bed, knowing we wouldn't see them for several days, I began to get emotional. It does sound a little overboard, since we're only leaving for two nights and 3 days, but, that's three mornings in a row of waking up to something other than a bright and cheery "good morning mommy!" from a toddler, or going into Story's room to see if she's awake only to find her bouncing happily in her crib. I tried not to think too much on it, since this was the first time Lance and I were going anywhere since our honeymoon, but it wasn't working.
Finally, I had an idea. I found the little red mailbox that London got for Valentine's Day (Thank you Target for your $1 section), and went to work. I had some extra cardstock cards, so I wrote little notes on them for each day. I made my husband draw little pictures (because I have NO art ability) of things like a skyline of tall buildings, instruments, pizza, and our car coming home. On the front or back of the pictures, I wrote little things like, "Chicago has lots of tall buildings like these! Mommy and Daddy will be sleeping in one of them tonight!" and "Chicago has lots of yummy pizza places! Mommy and Daddy are eating pizza for dinner tonight!" I also put a treat for each day like a honey stix we got from the ASU farmer's market Saturday or smartee's.
I asked the grandparents keeping the girls to put the numbered cards and treat into the mailbox each morning for them to open and get their "mail." I know Story won't understand, but London sure will and I feel so much better knowing I'm adding a little bit of love each day even if I'm not there. If this had not been a seriously last second thing, I would have loved to add magazine pictures of things we'll see there or something as well. I'd love to save the cards (if a certain baby doesn't get a hold of them and chew first) and make this a tradition each time their daddy or I have to be away. It may be a really silly, but loving, box of things to look back on one day. Do you do something special when you have to be away from your little ones? I'd love to hear.

Until next time,
Heather
[+] add comment
This was a great story that made me recall when my children were younger. You see, my husband is a Senior Chief in the Navy and has been for 18 years. We are currently living here in the Jonesboro Area while he is stationed in San Diego, CA. As teenagers it's easy to buy them a cell phone and they can text their Dad, but as toddlers one day seemed like a very long time to them. My husband would be gone for 6-9 months at a time on deployments so in order to help them remember what Daddy looked like I would take a picture of him and each child before he left. I made several copies of the picture and laminated each one. Those pictures went everywhere with us including bed, water parks, walmart, the mall, etc. When it came time, and Daddy's ship pulled safely back into harbor, my children recognized their father and ran into his arms without hesitation.
Oh my word! I LOVE that idea! What a fantastic way to keep him in their hearts! Thanks for sharing that! -Heather