News Taffy
News Article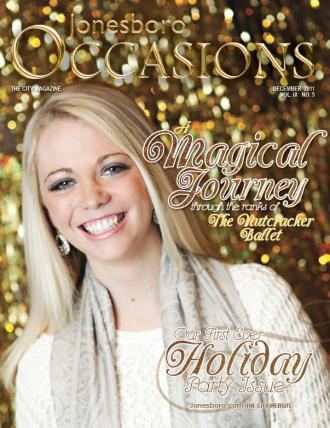 Jonesboro Occasions - December 2011
The December issue of Occasions is all about the holidays. It begins with a cover story on one of Jonesboro's favorite Christmas traditions – the Foundation of Arts' annual presentation of "The Nutcracker Ballet." The ballet is a community favorite, and in the story, we meet many locals who have essentially grown up in the production. From Director LeeAnn Knierim to many of the lead dancers, participating in The Nutcracker Ballet has long been a part of their holiday season.
This month's magazine is also our first-ever party issue. In the special party section, you'll find: Fun, Fab Gift Finds for the Hostess, all of which come from a few of your favorite local businesses; "Kathy Cardwell's Holiday Party Tricks," not to mention a couple of her amazing recipes in "A Party for Your Tastebuds;" our staff's favorite holiday playlists for any occasion; and tips for how to "Spice Up Your Holiday Gathering with Live Local Music."
This issue also features: CASA's Festival of Chairs, a silent auction for those who refuse to be silent about child abuse; Trim the Tree, a seasonal specialty store that is known for its bold, glitzy approach to holiday décor; Pamela Overstreet of Pamela Anne's – Delivering Desserts from Down Home to Decadent, a home bakery made possible by the recent passing of the cottage food law; and Jan Bennett-Troutt's seasonal hand painted figurines in Gallery O. And you know you can always count on Occasions for our Datebook and our Dining Guide.
November was a very busy month in Jonesboro, so our December issue has event photos from the Breakfast with Ballerinas, the March of Dimes' Signature Chef's Auction, the DSO's Celtic Rhapsody Gala, the Grand Opening of St. Bernards' Health and Wellness Institute, Art with Heart, The Multicultural Dinner and Dance, the Best Buddies Kickoff, the ASU Alumni Homecoming Tailgate, the first-ever DSO Holiday House, the Jingle Bell Run, the 20th Century Club's 110th anniversary, ASU's Distinguished Alumni Reception, a Disney Princess' visit to The Learning Center, Sean Shrum's Fall Show, Sara Howell's Fall Show, Gallery 451's Rock and Roll Art Show and Business Occasions. For even more photos, click on "Event Galleries" on Jonesboro.com or scan the QR code in your copy of the magazine.
Click HERE to read our December issue online, and as always, you'll be able to find the magazine all around town at all of your favorite local businesses.
[+] add comment