News Taffy
News Article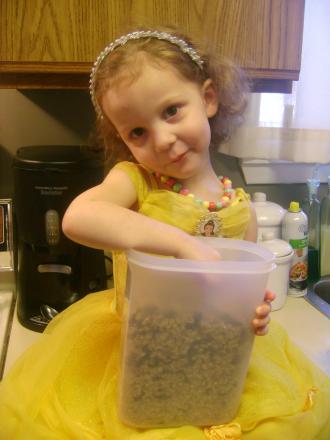 Little Hands' Homemade Granola
Last week, I talked about wanting to share some ideas for healthy snacks for you and your little ones. I shared how to make popcorn on the stove. This week, I'd like to share one of my favorite granola recipes! My favorite thing about granola is that you don't even really need to follow a recipe, since we all know I can't seem to anyway. You can add anything to it to make it your own. This time, I added cinnamon, dried cranberries, and some chopped walnuts I found in my pantry at the last second. You can any nut, seed, fruit, seasoning, even chocolate chips. It's so good that I kept having to blow on bites to give out before it was even fully cooled.
Ingredients that stay the same:
*4 cups of rolled oats
*1/3 cup of vegetable oil
*1 1/3 cup of honey (amount can change to taste)
The ingredients you can change up:
*1/3 cup of flaxseed meal
*1 teaspoon cinnamon
*1 1/3 cup of dried cranberries
*1/3 cup of chopped walnuts
*1 1/2 teaspoon of vanilla
Can you tell how easy it is to make it up as you go? I obviously refused to dirty more than one measuring cup :). Mix the dry ingredients in a large bowl. This time, it was oats, flaxseed meal, cranberries, and walnuts. In a smaller bowl, mix the wet ingredients and the seasonings. This time, that was oil, honey, vanilla, and cinnamon. Pour the wet mix into the dry and mix enough to coat it all. Then spread it all onto a cookie sheet with sides (or even a cake pan) that has been lightly sprayed with cooking spray. Bake at 300 degrees for 30 to 45 minutes stirring it around every 10 minutes or so. Let it cool completely and then store in an airtight container. It will get crispier as it cools, but if you feel that it's not as crispy as you'd like once it's cooling, put it back in for a little bit more baking.
You can eat this so many ways. We mostly eat it as cereal in the morning with milk, in yogurt or fruit or both (parfaits!), or just by itself! It's an easy thing to throw in a ziploc bag to take to the mall or Walmart instead of having to resort to candy or something else that is high in sugar.
Until next time,
Heather
[+] add comment