News Taffy
News Article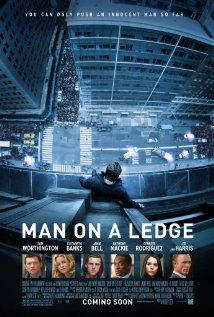 Monday Popcorn: Man on a Ledge
Welcome back movie fiends! Hope you've all had a great week because I have. As a college student, nothing excites me more than the weekend, especially when that weekend includes a night out with my girls Mallory and Rachel and no holds barred procrastination. As I am typing this right now at 12 a.m. on a Sunday, I'm still in my pajamas from Friday night and I have completely neglected to even attempt to do my homework or wash the ever-growing pile of laundry in my closet. (I'll get to it later…maybe). I mean, it's Lifetime's "Stay in Bed Weekend," so what else am I supposed to do?
Anyway, I've been looking forward to going to the movies all week and I am proud to say that action movies have been redeemed with Man on a Ledge. I went into this movie a little bit skeptical after last week's wanna be action movie flop, Haywire, but I had a feeling this one wouldn't disappoint. Besides Sam Worthington (Avatar) is in it, and he's not too hard on the eyes. What could go wrong?
In Man on a Ledge, we are introduced to Nick Cassidy (Worthington) who takes us to the edge, literally, when he steps out on the 21st floor of the Roosevelt Hotel, seemingly ready to take his life. Witnesses down below alert police and in come the crowds and the media. Nick tells Officer Jack Dougherty (Ed Burns) that he only wants to talk to hostage negotiator Lydia Mercer (Elizabeth Banks). Once there, Lydia offers Nick a cigarette to share and runs the DNA, which reveals he is the ex-cop who was arrested for stealing a $40 million diamond from tyrannical businessman David Englander (Ed Harris). Nick maintains that he is innocent and convinces Lydia that he is too. He explains that he was working for Englander, protecting his jewelry store, when he was knocked unconscious and woke up to find he had been framed for the theft and was sentenced to 25 years in jail. Nick escaped from prison a week earlier while attending his father's funeral to execute a plan that had been in the works for a year, hence the action on the ledge.
It is revealed, however, that Nick's man on a ledge exhibition is really just a distraction from his brother Joey (Jamie Bell) and his girlfriend Angie (Genesis Rodriguez) who are breaking into Englander's jewelry store across the street. What unfolds next is a web of corruption and monetary gain with moments that literally had me chewing on my pen.
I am so glad this movie was not a failure. Everything this movie has is what Haywire was lacking. There was more than just a man standing on a ledge, but there was substance or what I like to call meat to the story. There was also action, character development and even a little humor. There was never a moment when I didn't know what was going on or that I wished I was at home watching a Real Housewives of Atlanta marathon (my personal favorite of the Housewives franchise).
There was one thing that surprised me, and that was the attitude of the crowd in the movie. Many of them were saying Nick should just jump and get it over with already, while others applauded him for taking such measures to prove himself innocent. It had me thinking about how careless people can be and how the loss of a life could be entertaining. People were there for the spectacle, but did anyone consider the person standing up there. I would like to think this kind of gross disrespect for humanity only happens in movies, but I think we all know that's not true. But that's just my moral introspective look into life for the week, so back to the movie.
Man on a Ledge is a classic action thriller and that's why I'm giving it a solid eight on a scale from one to 10. There's so much more I want to tell you, but I have a strict rule about ruining movies, so I won't. I will however leave you with a few questions to ask yourself: Does he stay on the ledge? Does he get off? Is he innocent? Is he guilty? I have all those answers and trust me, you wanna know too, so go find $8, get some friends together and go see Man on a Ledge. It's totally worth it.
This Friday, I have a date with The Woman in Black. It could get pretty scary, but we'll see.
Until next time,
-Raven
[+] add comment