News Taffy
News Article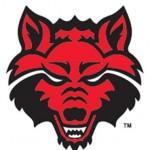 Get Ready to Howl - the 2012 Red Wolf Football Schedule is a Winner
Six home games, including a matchup against longtime rival Memphis, and three nationally-televised contests highlight the 2012 Arkansas State football schedule that also features non-conference outings at Oregon and Nebraska. The Red Wolves will play six games at ASU Stadium, where it went undefeated last year while setting the school record for average home attendance, for the second consecutive season. In addition to Memphis, A-State will also catch Alcorn State and Sun Belt Conference opponents Western Kentucky, South Alabama, Louisiana-Monroe and Middle Tennessee at home.
Additional television opportunities still exist for the Red Wolves, but they already have an ESPN or ESPN2 broadcast set for their game at Louisiana-Lafayette. ESPNU will televise ASU's road game at FIU and home contest against Louisiana-Monroe as well. The Red Wolves played 10 televised games last season to match the school record that was initially set in 2010.
"This is an exciting schedule featuring six home games," said ASU head coach Gus Malzahn. "We are looking forward to the non-conference challenges it will present against some of the nation's top teams before we face a strong Sun Belt schedule." ASU will carry a nine-game regular season winning streak into season opener Sept. 1 at national-power Oregon, which finished 2011 ranked No. 5 in the final BCS standings. New A-State head coach Gus Malzahn will lead the Red Wolves into their game against Oregon, which he faced as Auburn's offensive coordinator in the national championship game two seasons ago.
ASU will host Memphis in its home opener a week later, catching the Tigers at ASU Stadium for the second straight year. A-State topped Memphis in the latest meeting of the series that includes 57 games, the most in school history. The game will also conclude ASU's traditional Paint the Town Red Week festivities held annually to celebrate the Red Wolves' home opener.
A-State returns to the road for a Sept. 15 game against Nebraska at Memorial Stadium in Lincoln. The Red Wolves will meet the Cornhuskers for the second time in school history and play a member of the Big Ten Conference for the fourth consecutive year.
A Sept. 22 home game against FCS and SWAC member Alcorn state will conclude the Red Wolves non-conference schedule. ASU will catch the Braves for the first time in school history during its fourth game of the season, which will also mark the first of back-to-back games at ASU Stadium for the Red Wolves.
A-State will begin the defense of its 2011 Sun Belt Conference championship, which included an 8-0 march through league play, when it hosts Western Kentucky on Sept. 29. The Red Wolves will play the WKU in its conference opener for the second straight year after handing the Hilltoppers their only league loss last season. ASU will return to the road for a Thursday, Oct. 4, game at Florida International, which is the first of ASU's three midweek nationally-televised games. FIU is coming off an 8-5 season that included an appearance in the Beef O'Brady Bowl.
ASU will conclude a stretch of four games featuring three home outings on Oct. 13 when its hosts South Alabama, which is beginning its first year of competition in the Sun Belt Conference. The Red Wolves will also be playing their Homecoming game against the Jaguars. ASU is 56-27-1 all-time in Homecoming contests and has won seven in a row against Sun Belt opponents.
Following the first of two open weeks for A-State, it will begin a two-game road swing at Louisiana-Lafayette on Oct. 23 or 24. The Tuesday or Wednesday night game will mark the fourth straight year the Red Wolves have played at least one game on ESPN or ESPN2.
ASU will play its first game at North Texas' Apogee Stadium on Nov. 3 when it catches the Mean Green in its second season at its new stadium. The Red Wolves will play their final midweek game of the year on Thursday, Nov. 8, when they host Louisiana-Monroe.
A-State's final road game will be played Nov. 17 at Troy, and an open week will follow before its final regular-season contest against Middle Tennessee at ASU Stadium on Dec. 1. The Troy game will also be ASU's Senior Day.
Season tickets for ASU's 2012 campaign are currently on sale at the ASU Ticket Office. The ticket office can be contacted at 870-972-ASU1, or tickets can be purchased online through A-State's official athletic Web site AStateRedWolves.com.
[+] add comment