News Taffy
News Article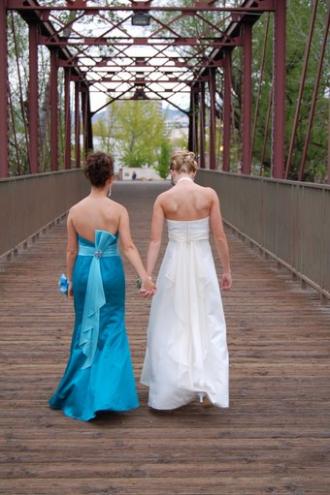 The DIY Bride on Choosing a MOH
Over the last two weeks, I've gotten a few things done. Things are starting to move along at a nice pace, and I now feel like I've started some real planning. Since my last post, we've decided on a cake topper (which is totally cute!), gotten our color swatches to the florist and bakery and the "Bestie Best" friend now has her maid of honor dress (a super classy dress for a super classy lady).
While many brides out there have elaborate ceremonies with every friend they've ever had as their long line of taffeta princesses, I chose a more manageable approach that would put less stress on me. I opted to have my closest friend – practically my sister – as my one and only maid. Having been one of numerous maids in a few weddings before, I've seen how the MOH is typically the one no one is upset over. Everyone knows she is the only one to fill those shoes, but it's all the others who people typically have an opinion of. Whether it's the maids themselves bickering over who stands where or those not chosen gossiping about why so-and-so shouldn't be a maid (because they would be a much better fit, of course) there is always something going on behind the bride's back (or sometimes right in front of her face). I've seen all of these things and this is why I chose to keep the pressure off myself and have one person to not only keep me sane, but help me tie the knot.
So what makes a good MOH? I chose mine based on a few things. For starters, we've been through pretty much everything together. We've had times where we didn't see each other all that much, and people probably questioned whether we were friends at all. But through all the friends found and lost, we've never once been so far from reach that we lost our friendship. For the last 16 years of our lives, we've known what it is to be true friends – someone you can go to without any judgment no matter how long it's been since you last saw each other. Another reason I chose her – she's always there to keep me from drifting too far from Earth. A good MOH will listen to all of your thoughts and ideas thoroughly and then let you know how it will work, or if it won't. They keep you realistic in your vision of your big day which is something that can be lost amidst all of the idea books you flip through. And finally, when you have your "Bridezilla" moments, the right MOH will step in to protect all of the innocent bystanders from your wrath. It won't be easy, but often times having them knock you off your pedestal is what's best for you and everyone around you.
Finding the right MOH is one of the most important aspects of planning your wedding party. All the others will fall into place. If you want to have every friend you've ever known as your bridesmaids, by all means. There's nothing wrong with that. If you want just one or a few, go right ahead. People will still enjoy your ceremony, whether they are standing at your side or sitting in the pew.
[+] add comment