News Taffy
News Article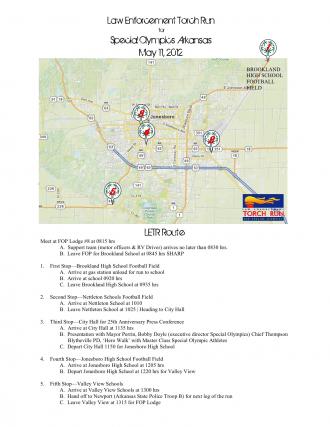 25 YEARS AND STILL RUNNING
Jonesboro, AR

– May 7, 2012 – This year marks the 25th anniversary of the Law 
Enforcement Torch Run for Special Olympics Arkansas.  On May 11th the Flame of 
HopeTM will pass through the City of Jonesboro on its journey to the opening ceremonies 
at the Special Olympics Arkansas State Summer Games at Harding University in Searcy.  
Local law enforcement officer, Special Olympic athletes and students from local schools 
will be carrying the Flame of HopeTM.  Stops will be made at Brookland, Nettleton, 
Jonesboro and Valley View Schools.  The Keepers of the Flame of Hope traveling trophy 
will be awarded to the Brookland School District this year.  A special stop will be made 
at City Hall to commemorate the 25th anniversary.  The stop at City Hall will feature the 
'Hero Walk' of Special Olympic athletes and guest speakers Mayor Perrin and Bobby 
Doyle, executive director of Special Olympics Arkansas.  The officers and Special 
Olympics Arkansas would like to invite all in the community to come witness this 
inspiring event. 
The Law Enforcement Torch Run® for Special Olympics is the movement's largest 
grass-roots fundraiser and public awareness vehicle.  In Arkansas, the torch run is a relay 
bringing the Flame of HopeTM from all four corners of the state into the Opening 
Ceremonies of the State Summer Games at Harding University in Searcy, Arkansas.  On 
Thursday May 24th, officers from around the State will meet for the final leg into the 
Stadium at Harding University where over 2,000 Special Olympic athletes eagerly await 
the arrival of the torch to signify the beginning of the Summer Games.  Athletes will be 
competing in athletics (track & field), aquatics, bocce, power-lifting, softball, flag 
football and golf.  Over 100 athletes, coaches, chaperons and volunteers from Craighead 
and Poinsett counties will be attending the Summer Games. 
Special Olympics Arkansas' mission is to provide year-round sports training and athletic 
competition in a variety of Olympic type sports for all children and adults with 
intellectual disabilities giving them continuing opportunities to develop physical fitness, 
demonstrate courage, experience joy and participate in the sharing of gifts, skills and 
friendship with their families, other Special Olympic athletes and the community.  For 
more information on the Law Enforcement Torch Run® or Special Olympics Arkansas, 
contact the Northeast Arkansas Office at 870-275-7075 or e-mail 
kimberly@specialolympicsarkansas.org. 
[+] add comment