News Taffy
News Article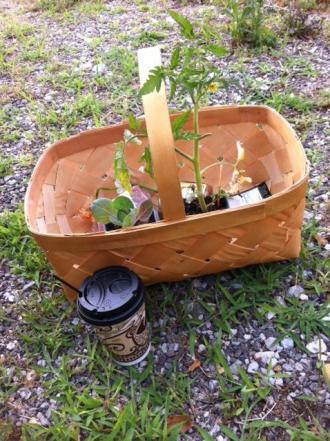 Little Hands Goes to the ASU Farmer's Market
So, it's officially my second favorite time of the year. There's Christmas, and then there's the Farmer's Market. ASU officially opened their Farmer's Market this past Saturday! It's open from 7 to 1 each Saturday. There are even more vendors than last year! You can buy home grown fruits and vegetables that, by regulation, were grown within 100 miles of ASU! Is that not exciting? There's also beef from Nine Oaks Beef located in Brookland. We bought a rump roast from them I cooked in the crock pot yesterday, and there is seriously no comparison to what I normally buy at Walmart. Hurrah for no hormones or antibiotics! You can buy farm fresh eggs, plants, fresh flowers, baked goods, and crafts. There's jam, local honey, and freshly ground Argo Sons coffee. I love it. Nevermind all the goodness of the food, these people are my kindred spirits. I just love being around people that love growing and creating.
I wanted to get there earlier, so to bribe my children into the car, I baked some muffins that morning. Chocolate chip, no less. We loaded them into a little wicker basket, because that's just so much more fun than Tupperware, and jumped in the car! We're living in Lance's grandmother's house at the moment, where I come across so many great things in storage and the attic. One of the best finds so far as been a wicker basket collection. Apparently his Momo and I are kindred spirits as well. One basket is larger than the rest and is perfect for trips to the market. I promise I was born in 1986, and not hundreds of years ago, but I have an old soul haha.
So we went to the market, grabbed a couple cups of fresh coffee and loaded up my basket. This time, we bought the roast from Nine Oaks beef, a honey blueberry spread, and a tomato plant. London was allowed to pick out a plant from the booth of kids from the Health, Wellness, & Environmental Studies Magnet School. I expected her to choose a pretty zinnia plant or something of that nature, but the girl chose brussel sprouts. Yep. We'll see how that goes. Now I'm off to google how to cook brussel sprouts.
Don't forget Mother's Day this Sunday!!! I have an idea of a gift to make, but I'll share it next week. My mom and mother-in-law both read this blog, so I have to keep the secret a bit longer.
Until next time,
Heather
[+] add comment