News Taffy
News Article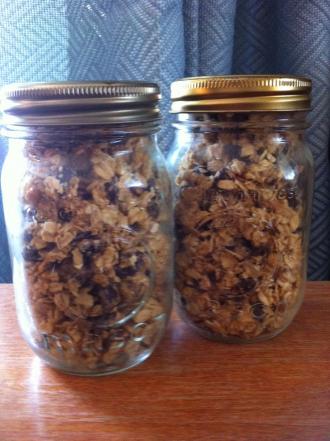 Little Hands' Homemade Granola
Have you picked up a June issue of Occasions yet? If not, you should definitely drop by their office for one! You could also read it online! Isn't that convienent? There are several great stories in there this month, including one I really enjoyed called "It's Never Too Late for Learning," about options for senior citizens that want to learn, like an oil painting class! I want to go!
My favorite thing in this month's issue, however, has to be the "Someone's in the Kitchen" section. Hint, hint. Yes, this month's recipe is one from Little Hands! We shared a raw chocolate chip granola recipe that has yet to be worn out in our kitchen.
You need:
*2 cups rolled oats
*1/2 cup crunchy peanut butter
*1/3 cup of honey
*1/4 flax seed meal
*1 tsp vanilla extract
*1/2 cup of semisweet chocolate chips
Instructions: Mix.
Yes, it's truly that easy. You mix it all together, store it in an airtight container, and it's ready! Also, every single ingredient except the vanilla has protein! Did you know honey contains protein? We didn't either. You can refrigerate this recipe as well to roll into balls for "energy balls," but we eat it best out of a mason jar or on top of yogurt. It tastes exactly like a no bake chocolate oatmeal cookie, without sugar! It's the simple and delicious things in life, right?
Check it out in this month's issue!
Until next time,
Heather
[+] add comment