News Taffy
News Article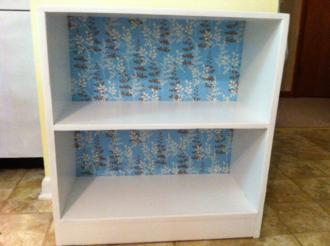 Little Hands' Summer Project - Updated Children's Furniture
Is anyone looking for some summer projects? How about one that updates your kids' rooms?
I have been saying for months that I wanted to redo a really old small shelf that is in my girls' room. It is probably more than 30 years old and looked like it. Finally, I decided it was time to go ahead a couple of weeks ago. I sweet talked my husband into taking it outside and sanding it down first.
Then, I put on two coats of primer, then two coats of white paint we had left over from our kitchen. We ended up having a picnic lunch outside that day so that the girls could play, and I could put new coats of paint on it.
Once it was dry, I pried off the back and sprayed it down with a canned spray adhesive. Then I covered it with some fabric that I got for cheap at a sale at Hobby Lobby. I nailed it back onto the back of the shelf and it was done! Before nap time was even over, too!
What furniture can you update in the rooms of your children? This would be such an easy way to grow a room from a child's to a preteen's giving it more personality. It was fun to let the girls help pick out the fabric too.
Until next time,
Heather
[+] add comment