News Taffy
News Article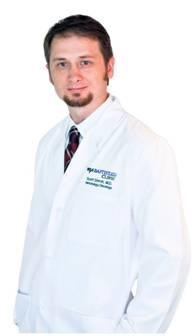 NEA Baptist Clinic Welcomes New Physician
NEA Baptist Clinic welcomes Scott Dorroh, MD, to a growing team of highly skilled and caring oncology physicians. Dorroh will begin practicing at NEA Baptist Clinic on July 16.
Dr. Dorroh received a Bachelor of Science in biology from Harding University in Searcy, Arkansas. He then went on to complete his Doctor of Medicine at University of Arkansas Medical Science in Little Rock, Arkansas. Dorroh continued with his internal medicine residency at UAB Hospital in Birmingham, Alabama and has recently completed his fellowship in hematology and oncology at UAMS in Little Rock.
Dr. Dorroh and his wife, Amy, currently reside in Jonesboro with their three year old daughter. He is the son of James and Marilyn Dorroh of Caruthersville, Missouri. Amy is the daughter of Stan and Mary Rowlett of Jonesboro. Dr. Dorroh is a member of the American Medical Association and the American Society of Clinical Oncology.
Dr. Dorroh joins a strong team of oncology physicians at NEA Baptist Clinic. These physicians include Dr. Ronald Blachly, Dr. Allen Nixon, Dr. Carroll Scroggin, and APN, Stacia Gallion. Dr. Christopher Bryant most recently joined the cancer team as a gynecologic oncologist. The NEA Baptist Clinic Oncology department is currently located at 311 E. Matthews. The office is open 7:30 a.m. – 5 p.m. Monday through Friday and can be reached by calling 870.934.4150.
[+] add comment