News Taffy
News Article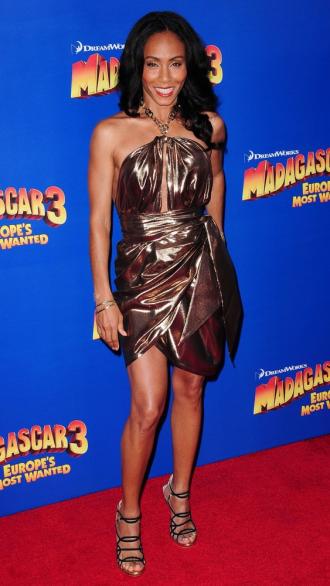 Southerner and the City Talks Addiction with an A-list Animated Actress
You often hear reporters asking actors how they prepare for films. This question is interesting to me only if the film is a period piece, there is a foreign accent involved or a major costume-body suit thing involved. When it comes to animated films though, this question just seems ridiculous. Seriously, the actors show up, hang out in a sound booth, don't worry about costumes, etc and just speak into a microphone! Often times, the other actors involved in the making of the film aren't even there on the same day.
Jada Pinkett Smith recently made the media rounds promoting Madagascar: Europe's Most Wanted. The Moms, Denise Albert and Melissa Gerstein, hosted Jada at a screening of the film in Times Square. With a room filled with inquisitive bloggers, most of the questions pertained to her family and career and not to how she prepared for her role as Gloria the Hippo.
I had read about Jada's family struggles with alcohol and addiction and was curious to know how she talked with her kids about the disease. I was the first to ask her my question. You can click on the link and listen to her edited response starting at 5:44 in the clip.
I don't know about you, but I learned about alcoholism in a round-about way. I have alcoholics and addicts on both sides of my family. There was always talk of why certain family members didn't drink. For a while I thought it was just for religious beliefs, but later found out that it was because the family member had been married to a raging alcoholic who left the family stranded. Or that the person in question was in fact an alcoholic. But being a young kid at the time, I did not really understand what being an alcoholic meant.
While some people want to stick their head in the sand when it comes to having talks like this with their kids, I think you will be doing your child a huge disservice by not talking to them about addiction, not matter what the vice may be. At some point sooner rather than later, I will talk to Corbin about what it means to be an alcoholic and an addict. It's not going to be as simple as explaining heart disease, diabetes or cancer for example. Most of the time there is no physical tumor to point to in explaining alcoholism like there is with lung cancer. Some alcoholics look perfectly normal as do those people who are addicted to prescription pills and other drugs. After a while there will be obvious signs that something is wrong, but to a small child the symptoms may go unnoticed. As with anything, education is the key to empowering Corbin not matter what the topic.
Until next time,
D.J.
You can keep up with D.J.'s adventures in the Big Apple by following her on Twitter @mrsdjduckworth and on Facebook at D.J. Cunningham Duckworth. She is also a contributing writer for New York Family magazine.
[+] add comment