News Taffy
News Article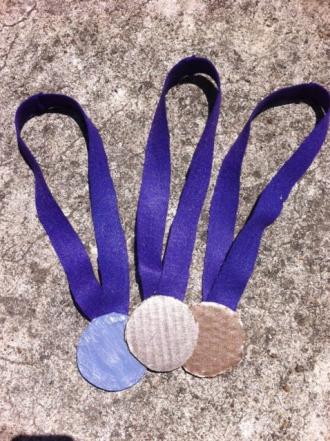 Little Hands Have Olympic Fun
Are you following the Olympics? We sure are. I grew up in a family that would stop whatever we were doing to watch them take the medal podium. I love to learn the stories of the athletes that finally make their dream of getting to the Games.
So, last week I was watching live online when our US women's gymnastics team won gold. I kept telling London and Story that those were our girls! They were representing our country! That we won! We won the first team gold medals since Atlanta!
Through all this, London sat thoughtfully, and finally asked if "we" kept winning and "we" were getting gold medals, why weren't WE getting some.
So, I made them some, of course. I cut some circles out of cardboard and painted the gold and bronze with some gold paint, mixing some brown in with the bronze's paint. I covered the silver in aluminum foil, then painted gray over it. I didn't have ribbon, but found some deep purple felt and cut strips to make the necklace part.
I really wanted to decorate them like the medals are made, but I would need my husband here to draw it for me. Plus, as it turns out, a 3-year-old and almost 2-year-old don't actually care that the design of the River Thames is missing as well as the Olympic rings. They just wanted their medals.
What's your favorite Olympic sport? Our girls have loved the swimming, but they haven't seem the rhythmic gymnastics hasn't even started yet! Who knows which of them will medal in gold in that one.
Until next time,
Heather
[+] add comment