News Taffy
News Article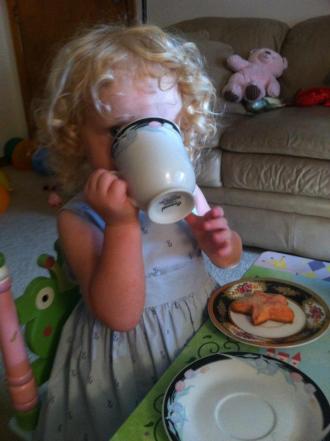 Little Hands' Tea Party
Parents receive truck loads of advice. From the moment your baby bump is obviously in the aisle at the grocery store, you are fair game for any and every bit of advice a friend or stranger wants to give you. Honestly, the majority of this advice is not something you even care to follow but you smile and nod anyway. However, occasionally, you're given a bit of advice that lights up your mind and gets tucked away in there for the day when you can use it.
When my oldest was just a few months old, someone told me something that was the latter of those two types of advice. She said, "you don't have to see everything that your children do wrong," and "sometimes, let them play with things they could break but are special." I love this. Who wants someone constantly getting on to you for every little thing you do wrong all day long? Not me. I'm sure my kids feel the same way. And, after a day or days or even weeks of me telling my children to "be careful" with things and "maybe later" and "that could break," I'm tired of hearing it as much as they are. To remedy this situation, I pulled out one of my glass teapots last week. (Little known fact: Most English majors seem to collect teapots.) A good friend of mine brought over a couple of extra china teacups and saucers she had at her house (she's also an English major). I pulled up the best and easiest recipe for tea biscuits I've ever found (also from that friend), and we were ready!
London helped me mix all the ingredients, then we added some pink food coloring, and rolled out the dough to cut with cookie cutters and bake. When the biscuits were ready, I filled the teapot with water, and set up their little table. Story mostly cared about the tea biscuits, but London was amazed that she was being allowed to use china tea cups and pour her own water from the teapot. Seeing her eyes light up at such a treat made me certain that it's something we should do often. They could have broken the teacups, and in fact, Story has already broken one. But teacups are 50 cents at the thrift store. That is more than a fair price to finally get to say "yes" instead of always saying "no," and letting my little girls dress up in pretty dresses and have a tea party. Especially for no other reason than an afternoon of "yes" instead of "no."
Hope you'll say yes to something for your little ones today.
Until next time,
Heather
[+] add comment