News Taffy
News Article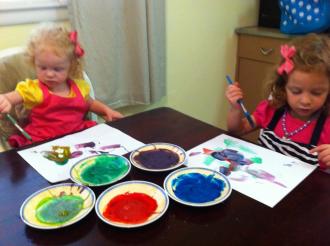 Little Hands: Cool (Indoor) Crafting
I hope everyone had a great holiday weekend! Monday is normally my cleaning and/or laundry day, but that got pushed back to today and one more day of weekend mess added, so it's been busy around here! I'm glad I had a reason to sit down and pick up my computer for a minute.
I'm not a very artistic person. In fact, I'm not artistic at all. When I was young and all art consisted of drawing, coloring and painting, I was awful at it. It wasn't until I was much older and discovered the ability to be creative with fabric, spray paint, and hot glue that I even seemed a tad "creative." Sometimes, I wonder if I wasn't so great at creativity until adulthood because of the lack of time I dedicated to it. Because of this theory, I really spend a lot of time encouraging my girls in all things creativity. Painting is really our go-to activity, and I really think it's because they like the mess but that's okay. Sometimes, the same old washable paint can even get boring though. When that seems to be happening, I either focus on something else and keep them from painting for awhile so that it's fun and new again later, or I switch up the paint.
A few weeks ago, it was just such a time, and the heat keeping us inside removed the ability to take away painting for a bit. That left me with trying to find a way to make it fun again. Enter, sweetened condensed milk. Yes, that's right. First, you pour a little bit of the milk into several different small bowls, then you add food coloring to each to make them all different colors. It makes a pretty shimmery paint that looks really wet. London thought it was perfect for painting water and sea animals. It is edible, which the girls discovered after several minutes of painting. Luckily, they didn't exactly eat it, but when it got on a finger, they did lick it off with big smiles. A sweet paint was a very pleasant surprise, and made something fun that had become old much more fun again.
Until next time,
Heather
[+] add comment