News Taffy
News Article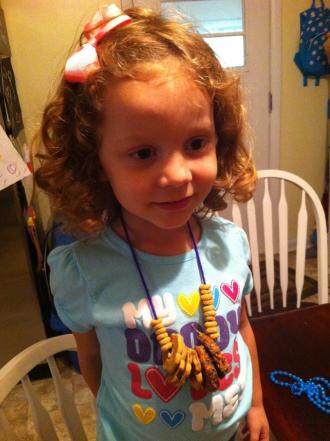 Little Hands' Family Night
With my husband starting classes again this semester, it's forced me to be much more intentional about our weekends and time together as a family. The girls don't have tons of time with him, so I really want their weekends with their dad to be quality time, since we don't have quantity time. Plus, I really want our home to be a fun, happy place that everyone enjoys being, including my husband.
These thoughts led me to institute a family night each Friday night. Whether we stay home or go somewhere, I love that Friday night together is what everyone looks forward to all week. The week before last, I cleaned out the girls inflatable kiddie pool and brought it inside during their nap. I blew it up in our living room floor and filled it with blankets and pillows. That night, after dinner, we strung cereal and cookies that were donut-shaped onto yarn to make snack necklaces and headed to the pool. We watched a movie while we all lay in the pool and snacked on our necklaces.
This past week, I decided on a jungle theme. I found some animal print fabric in the girls dress up box to put on our table, and I threw a safari print sheet over the window behind the table for a backdrop. Then, I brought in a potted plant from outside to put on the table and some animal toys to decorate as well. We just had burgers and sweet potato fries, but name them "jungle burgers" and they're now themed too! After dinner, I sent the girls and their daddy on a scavenger hunt outside with pieces of paper that just had the location of the next clue. I wanted it to stay easy and fun for girls so young. As they found clues, I brought in all my plants from outside to the living room, as well as stuffed animals. I made a pallet on the floor and placed the treasure chest they were hunting for on the pallet. Once they came in to find it, we watched the Jungle Book and snacked on animal crackers and trail mix. I also made pina colada smoothies.
Because I mostly use things I already have on hand, these fun evenings cost me almost nothing. The treasure chest was filled with things from the dollar section of target, and our movies are almost always netflix. What could you do to make your family time more fun for everyone?
Until next time,
Heather
[+] add comment