News Taffy
News Article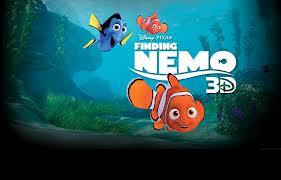 Monday Popcorn: Finding Nemo 3D
Hello fellow movie-goers and welcome back to Monday Popcorn! For the next couple of months I'll be going to the movies and sharing my thoughts with you. We may agree or we may not, but we will sure have some fun along the way.
With football season upon us, it's rare to get the chance to see the new flicks coming out each weekend, but on those weekends that we aren't all crowding the stadium or the living room watching the big game, there's nothing like going to see what's new out in theaters. Or in this case, what's being re-released. This weekend, Finding Nemo 3D hit the silver screen as a part of Disney's latest effort to revitalize films we all know and love. Personally, I tend to skip out on 3-D movies because they don't seem to be that much better, though I haven't missed one of these re-releases yet.
Let me start by saying that I love Finding Nemo. It's one of the greats and the story is one everyone has knows. But something about an Odyssey –type story being played out along the Great Barrier Reef captures the hearts of anyone who watches it. That's just the magic of Disney.
When I first saw it in 2003, I was mesmerized by just how beautiful Pixar had made this underwater adventure look. I was more interested in the look of the film than the story at first. So when I heard it would be released in 3-D, oddly enough I was pretty excited.
It was just as good as the first time I ever saw this film, however that may not be the response that was hoped for. At times, I honestly couldn't tell much of a difference of whether the conversion to 3D really added anything. Yes, some of the scenery had more depth, but for the most part it's hard to tell a difference and that may not be enough to justify the ten dollar ticket. But, if you are looking for a fun splurge for the weekend, look no further than taking the kids to see it.
Regardless, I will always love getting the chance to watch this movie which definitely lends itself better to the big screen. And the Pixar short, Partysaurus Rex, definitely made up for the ticket price.
Until next time,
Beth
[+] add comment