News Taffy
News Article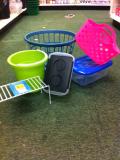 We all need a little organization, but anywhere else these things would cost a ton of money.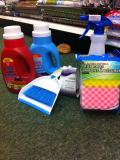 Cleaning products are some of the most expensive necessities you buy in college. But not if you buy them at the dollar store.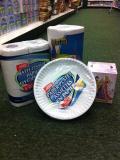 Paper plates, paper towels, toilet paper, and tissues can all be found for a bargain.

For all your personal cleanliness needs, they've got you covered.

The dollar store has a surprisingly good selection of dishes and utensils. Check it out.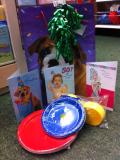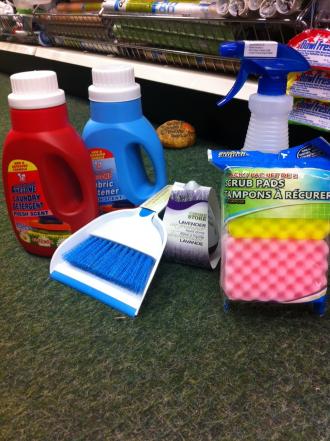 Four Years of Frugality: Dollar Store Deals
It's always a good day when you can save a few bucks. Believe me, the more money I have in my pocket the happier I am. That's why this week, a couple of my friends and I ventured to the dollar store for a few things that you frugal college kids, or "frugals in training", might be over-paying for elsewhere. Some of this may seem silly to you, but see who's laughing when you spend five bucks on something some loose change could have easily bought you.
Paper products are some of the most obvious things to buy at the dollar store. Paper plates, paper towels, tissue, toilet paper, etc., these are all things that are at the dollar store for the same exact quality, yet we forget this so easily. These are things you use every single day so why not save a little cash buying them for cheap?
Cleaning products are also great buys at the dollar store, especially if you are buying items that will get dirty in the process (mops, brooms, sponges, etc.). These reusable items, as well as cleaners and detergents are all available at the dollar store and they have tons of different kinds to choose from. You'll save a bundle.
If you need to organize your dorm room or apartment, tubs, bins, baskets, totes and more can all be purchased at the dollar store. You can have your entire living space organized and tidy so you can focus on studying and making those good grades.
Dishes are also a great buy from the dollar store. You'll find a plethora of cups and plates that are all durable and microwave safe. Plus, you'll be helping the environment by not throwing away tons of paper plates every week.
Personal care is very important. You don't want to be known as the kid in class who never bathes. And all of your hygienic needs such as shampoo, toothpaste and toothbrushes, and even combs and make-up brushes can be found at the dollar store. Why pay dollars more for things like that?
Last, the dollar store also has you covered for birthdays and holidays. Maybe not when it comes to the gifts themselves, but as far as wrapping paper, bags and birthday cards, the dollar store has all of that. And with Halloween right around the corner, the dollar store has everything you could possibly need to decorate your space for a haunted good time.
These are my top dollar store finds. I usually make a couple of trips to my local dollar store a few times a month to stock up on these things and I highly recommend that you do the same if you're looking to save some of your hard-earned cash.
See ya around campus!
-          Beth 
[+] add comment