News Taffy
News Article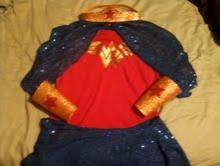 Four Years of Frugality: DIY Halloween Costumes
Ok, so I've been talking about Halloween quite a bit lately. It's one of my favorite holidays by far for many reasons including the scary movies, the super cool decorations and of course the costumes. And that's what I'm sharing with you today because Halloween allows for much creativity and imagination, and you can make your costume uniquely yours just by being resourceful.
This year, I'm going to be Wonder Woman. She's smart, strong and a great role model for any young girl when Superman just won't cut it. She is one of my favorite heroes so it was obvious I was going to be her this year. But,  pre-made costumes are pretty expensive and you'll likely never wear them again so why not take pieces you will re-wear and add in your own crafty touches? That's what I did.
It started with a T-shirt I had been eye-ing on Amazon.com for quite some time. It's a basic, red T with gold, foil rings on the sleeves and a gold, foil Wonder Woman symbol on the front. It's something I would wear any time which is why it is perfect for the costume. Then, on a trip to Hobby Lobby with my mom, I found the perfect sequined blue fabric for my skirt. Wonder Woman wears a star-spangled skirt or shorts, but since my costume is more interpretive this fabric gives the starry effect. Plus, it was on sale 50 percent off so I was able to buy enough to make a cape as well.
Then came the finishing touches. Wonder Woman has accessories, because all girls have to look fashionable even when fighting crime. She has her signature tiara and her bulletproof cuffs and for these items, I purchased sheets of glittery gold and red foam. I also needed a way to fasten these things and keep them in place so I bought brads for the tiara and snap closures for the cuffs. All of these items were also on sale, but none of these things are ever over a couple of dollars. I also grabbed some sparkly red tights from the Halloween section at Target for $5 and found some super cute shoes on sale for $7 that I will wear again. You can't beat that.
The most expensive part of my costume had to be my shirt at $15, but with it being something I'll wear again, that isn't terrible. All together I spent $33 on a full costume with pieces I'll re-use. That's $17 less than the Wonder Woman costumes I've seen online, and those don't include your shoes. Not too bad if you ask me!
I hope this gives you some ideas of how you can come up with a super great Halloween costume on a budget. Have fun and be safe in the next few weeks as the holiday approaches.
See ya around campus!
-       Beth


[+] add comment