News Taffy
News Article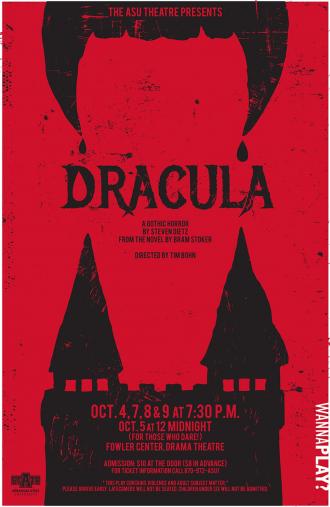 'Dracula' Opens Today at The Fowler Center
"Dracula" will open at Fowler Center this evening at 7:30 p.m. A "meet the company" dessert reception will follow tonight's opening night performance.
The second presentation of "Dracula" will be at 12 midnight Saturday, Oct. 5. Additional performances will be Monday through Wednesday, Oct. 7-9, at 7:30 p.m. each night.
This new adaptation restores the suspense and seduction of Bram Stoker's classic novel to the stage, according to an ASU Theatre spokesman. Rich with both humor and horror, this play paints a wickedly theatrical picture of Stoker's famous vampire.
The ASU Theatre's production of "Dracula" is under the stage direction of Tim Bohn, assistant professor of theatre. Scenic design will be by Jeff McLaughlin, assistant professor of theatre, and lighting design by Evan Palumbo, a senior theatre major from Salem.
Tickets may be purchased for reserved seating in advance at the ASU Central Box Office in the Convocation Center or by calling 972-ASU1. Tickets are also available online at tickets.astate.edu. Reserved seat tickets (if available) may be purchased at the door on the evening of the performance. Ticket are $10 or $8 if purchased in advance.
Due to the popularity of the presentation, advanced reservations are highly recommended. Children under six years old are not admitted to the ASU Theatre. Patrons are asked to please arrive early; latecomers will not be seated until intermission. ASU Theatre cautions guests that the play contains extreme violence and adult subject matter.
[+] add comment