News Taffy
News Article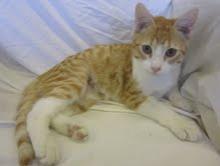 Butter and Jaylee Need Homes
Butter was found in Jonesboro after he had been hit by a car. The NEAHS's veterinarian repaired his injuries, and now Butter couldn't be better! He loves to climb and play with other cats and adores any and all attention he can get from visitors.
Jaylee was brought in with her two siblings. She appears to be part Chihuahua and part Dachshund, as she has a long body. She is totally adorable and loves to be held and petted.
To adopt Butter, Jaylee or another pet in need of a loving home, contact the Northeast Arkansas Humane Society at (870) 932-518.
[+] add comment