News Taffy
News Article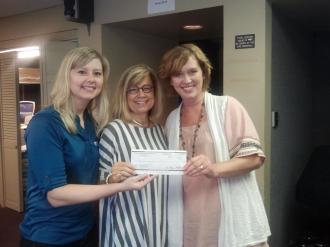 Ritter Communications helps deliver a new sound to The Forum Theater
In addition to arts education and outreach programming, The Foundation of Arts produces 8 shows a year in the Forum Theater.  Including The Nutcracker Ballet the FOA will host thousands of patrons and hundreds of volunteers in a single season.  Additionally The Forum Theater is pleased to beJonesboro's civic auditorium and hosts various concerts, movies and other events between FOA productions.

The FOA strives to provide a positive and enlightening experience for all audiences when they see a production at The Forum Theater. Improving the sound system has often been the topic of discussion as a way to enhance the experience. Recently the FOA sought out the ideas of professional audio experts in Jonesboro.  With their suggestions, and a cost estimate, the organization had a number to go by and put the word out.  Donations from FOA patrons began to trickle in, and one person who heard of the need was Ritter Communications Project Coordinator, Rachel Barnes.  Rachel appeared in this summer's production of The Emperor's New Clothes and volunteered as the light board operator for The Boys Next Door. After learning of the needs of the sound system, Rachel went back to work to inquire about the possibility of how Ritter could help with this much needed project.  A few weeks later, Vice President of Public Relations Margaret Holloway and Rachel Barnes stopped by The Forum to present a check to Artistic Director Kristi Pulliam on behalf of Ritter Communications for the remaining amount required to proceed with the sound system upgrade.
"We're grateful to Ritter Communications for their generosity.  Ritter, and each donor who gave for this project, has helped The FOA start to make sound in The Forum better for the community," stated Karl Hollander, CEO of The Foundation of Arts.
[+] add comment