News Taffy
News Article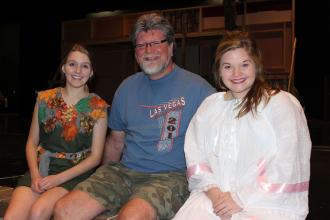 JHS Students Take Flight in 'Peter Pan'
By Audrey Poff
The Jonesboro High School Theatre Department is taking flight with its inaugural production inside the school's new Center for Performing Arts this week as it presents "Peter Pan."
When the students began discussing plans for the 2013-14 season, JHS Speech Communication and Theater Arts Teacher Dawn Tucker said they wanted to do something spectacular inside the new JHS Center for Performing Arts. JHS theatre students participated in fundraisers to be able to add the one additional element that would literally put the show over the top - theatrical flight. The additional funds raised by students were used to hire a widely-respected theatrical flying service, Flying by Foy, headquartered in Las Vegas.
Flying by Foy was established in 1957 by Peter Foy, whose innovative techniques and patented mechanical inventions revolutionized theatrical flight in the second half of the 20th century, elevating the anient practice of stage flying to a modern art form. It was Foy's creation of the Inter-Related Pendulum that helped define Mary Martin's barnstorming performance as Peter Pan for the 1954 Broadway musical and ushered in a new era of spectacular, highly-controlled, natural-looking free flight.
Johnny O. Pickett, employed as a flight director for Flying By Foy, arrived in Jonesboro, approximately one week before the show opened, said Tucker, who serves as director of the JHS production. With assistance from staff, volunteers and the production's technical crew, Pickett installed the flight system in the new theater and held orientation with the cast, crew and volunteers to demonstrate theatrical flight.
Pickett, a native of Etowah, Tenn., received a bachelor's or arts degree in theater from East Tennessee State University and a master of fine arts degree in design/technology from the University of North Carolina at Greensboro. He taught theater at several universities and worked in professional theaters throughout the United States before joining Flying by Foy in 1999.
Characters who take flight in the JHS presentation include Peter Pan, played by McKenzie Griffin; Wendy Darling, Emma Watkins; John Darling, Ethan Mirafuentes; Michael Darling, Andrew Pulliam; and Jane, Ella Heath.
JHS's presentation of "Peter Pan" will continue this evening at 7 and conclude with a matinee performance Sunday afternoon at 2. Tickets may be puchased at the door or online at https://search.seatyourself.biz/webstore/webstore.html?domain=jonesboro&event=.
[+] add comment