News Taffy
News Article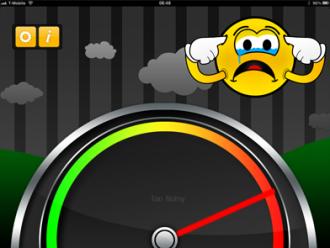 Little Hands Get 'Too Noisy'
Did you know that it is winter and very, very cold outside? Yes, I'm sure you did. But no one knows that fact quite like a stay at home mom. That's particularly true if that stay at home mother has three children under five years old, and all those children are accustomed to practically living outdoors and they are all running low on craft supplies.
It is so loud here. I realize that it sounds a big exaggerated to say that I really think my dogs ears are permanently damaged, but I think it's true. Yes, they are little, and yes, they are girls, but little girls have very, very high squealing, giggling, pitches.
I really hate to be that lady. The one that's constantly getting onto her kids over and over again when the kids are just having fun and not getting into trouble, but there's a baby over here and the ears of the dog and this mom to think about. After a few weeks of the constant reminder, "girls, you're playing fine and you can keep talking, but please be a bit quieter," we were both tired of it all. I was tired of turning the corner only for them to yell again, and they were tired of mom popping her head in the door every three seconds to shush them.
Enter: Too Noisy. Too Noisy is an app you can download for free on your iphone, ipad, or android. It is simple with a meter on the front with a background of a sunny, blue sky. When the noise level gets too high, the sun darkens, and the smiley face in the corner looks increasingly uncomfortable until he is crying with fingers in his ears. I love this app.
I simply turn it on, and prop the ipad up where they can see it clearly. You can pay for an upgrade for $2.99 that also has an alarm that will sound when the noise reaches a certain point, and I may be purchasing it as soon as the new wears off and they no longer watch it so well. Both the free and $2.99 version have sound sensitivity adjustments also so you can keep it perfect for your household. What I love is that the pitch is taken into account. I can yell for the girls without it hitting the red, but it doesn't take much of their high-pitched squeals to hit it. This has actually been helping them grasp the difference in their inside and outside voices.
I'm not usually big on pushing apps, but this has been amazing for us. I could tell that much of the issue was simply that they couldn't understand what was too loud and what wasn't, so this has really solved our problems long-term just from them watching where the meter catches each pitch. If you're stuck inside with kiddos, try this out if you're having noise problems too!
Until next time, Heather
[+] add comment