News Taffy
News Article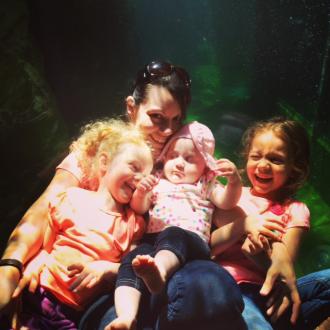 Little Hands Celebrate Random Holidays
I remember someone saying something years ago about their parenting sweet spot. I thought on it a lot and finally decided that my sweet spot was in making the mundane special. I looked for ways to make things fun and actively trying to be fun actually made me more fun with my kids. Holidays became the easiest way for us to make things fun, but after Valentine's, there's a pretty big lull in the holiday calendar. Then, I discovered all the obscure little days that people have created. In the last several weeks, my girls and I have celebrated several holidays. There was Something On a Stick Day, when we ate corndogs for lunch, grilled shish kabobs for dinner, and fruit, chocolate, and angel food cake for dessert. There was Don't Clean Your House Day when I skipped out on all responsibilities and we played outside all day. Sibling Day was spent at the zoo. Sometimes, it's easy for me to get grumpy between the duties and stress that comes with being a grown up and parent. I can let it slip in so that it becomes the norm and not the exception, but when our calendar is marked with days to celebrate random things with no big expectation on how special it must be, it gives us the freedom to keep joy apart of our family life. So here's a list of the coming random holidays that are just begging for some special fun added into them! Jot them down on your calendar!
Tuesday, April 22 - Earth Day. A great day to enjoy the outdoors and talk to your children about our part in taking care of it! We might do some chatting about our state being the Natural State.
Monday, April 28 - Blueberry Pie Day. As if we needed a reason to celebrate that...
Thursday May 1- May Day! Our favorite May Day tradition is leaving a surprise on someone's doorstep.
We don't celebrate EVERY holiday that happens, since that would defeat the purpose of special, but we do celebrate something small every couple of weeks. Usually it only means our dinner or afternoon is centered a bit around it, nothing big and elaborate. But life is fun! Celebrate it!
Until next time,
Heather
[+] add comment