News Taffy
News Article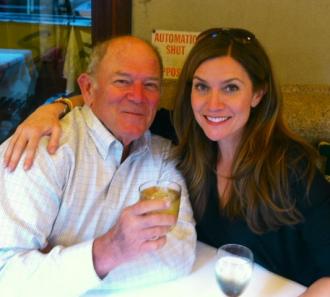 Southerner and the City Says Goodbye to Her Dad
My Dad died one week ago today He was in Mt. View working on a cabin, doing what he loved, when his friend and guardian angel, Jason, took him to the hospital. He'd had heart problems before and while his death was sudden, it wasn't totally unexpected. It's still a shock though.
If you haven't talked to you parents recently, pick up the phone and make it happen. If you need to set some things straight or clear the air with them, do it. You may never get the chance. I saw my Dad in March and spent some "quality" time with him, as he would say. We played phone tag in the days before he passed away and he left me one of the sweetest messages. I actually saved it because it was so sweet! I'm glad I did.
I have been blown away by the love and support that our friends and family have shown us since Dad died. Without it, I'm not sure how we would be getting along with everything. The reality of it has not sunk in yet, I know for sure. It may never. It takes something like the death of a parent or loved one to give you a new perspective on your life and theirs. My Dad lived a full life and left this world exactly like he wanted to...quickly. He was doing what he loved in a place where he wanted to be and talking about his family until the very end.
My Uncle Bill and I spoke at Dad's service on Tuesday. It's the greatest story I've had the privilege to tell. I've included it in today's post. He would be proud knowing that all of the money he invested in my college education really paid off!
My Dad would say, "it's a good day to be Joe."
I am in shock really that my Dad is gone. But I can tell you with certainty that he is shocked that there are so many people here today! He told me once, "D.J. when I die there won't be anyone there for my funeral. It'll just be your Mom's friends and y'alls friends!" He didn't have a clue how many peoples lives he touched. Last nights visitation confirmed that for me and our family.
My Dad was a builder. He always had a project going whether it was a spec house, a subdivision or building our house. Ritchie Crow, Ray Cates and Ray Smith and most recently Jim Young were constants in my Dad's "building" life. You may not know this, but my Dad was involved in some serious therapy ... but he liked to call it Palaver. Webster's dictionary defines palaver as "talk that is not important or meaningful"! Joey, Jimmy, Johnny, Michael (his building crew) and Dad got together Monday - Thursday just to hang out and or in Dad's word ... shoot the breeze and sip on an adult beverage. I would have given anything to have been a fly on the wall at a "palaver" get together. When we needed a float built for a homecoming parade, he could do it. When I needed a crew to build out a room in my house in Jonesboro, he made it happen. Later in his career he became involved with Habitat for Humanity and took great pride in knowing that he was giving someone a new home. Just this past February, Dad built a race track for Mom's Boy Scout troop for their Pine Wood Derby Race. I think he was more excited about it than the Scouts! Dad was in Mt. View working on his cabin when he passed away on Thursday. If you'd talked to him recently, you most likely got an update on the project. Corbin and I were looking forward to spending some time with Dad this summer up on the river fishing and checking out the square in Mt. View. I had told him over Christmas that I just didn't have enough time to fit it in but that we'd make the trip this summer. During my colleges days, I complained to Dad that I didn't have enough time to get something done, he broke down my day for me on a piece of paper to prove his point that I did in fact have enough time to get everything done but that I just wasn't being a good steward of my time! Sometimes we learn life lessons the hard way ... and this would be one of them.
Dad was always giving me updates on what was going on in Carlisle when he served on the city council. Dad would often fill me in on his morning talks with fellow councilman Eddie Moore. Dad always had an opinion on how things should be done and often times was quite passionate about it...and as life goes, not everyone always agreed with him. I've heard about some of the squabbles at council meetings and honestly I'm glad I wasn't there to witness any of them. Dad was a tough nut to crack when it came to changing his mind. I've known that since I was old enough to talk. You see, he and I are a lot alike in that area. We both like to get in the last word. I later learned that the only way I could get the last word in was to just walk away ... usually to my bedroom and slam my bedroom door in grand fashion.
Dad was proud to have served as a volunteer fireman and later as fire chief. When I think back at how many times our house phone would ring...that constant ring, you'd pick up the phone and find out where the fire was and he'd be out the door. And our neighbor and his long time friends Larry Tefteller and Ricky Sumner were usually right behind him. He wasn't so proud of the fact that while serving as fire chief, HIS house caught on fire. Of course, Carlisle's finest were on the scene quickly and the fire was put out in no time.
Dad had a huge network of friends and he enjoyed them all. I think if Carter Harrison would have asked my Dad to cook fish with him on the moon, my Dad would have made the trip! Dad loved to cook and clearly eat and had a ball working alongside Carter. Mom and Dad were in New York City last year and he cut the trip short a day because he needed to get back to go with Carter to Washington, DC for a fish fry. I said, " Dad, you can go down to Penn Station, hop on the train and be in DC in 3 hours. Why would you want to fly home and the drive all the way to DC? and he said, "because I want to ride with Carter." And he did! I took the train down to Washington DC to meet them there and I am so grateful that I did. It was great to be with Dad and watch him do something that brought him great joy. Dad and Mike Stuart spent years arguing with each other and over time developed a friendship that is enviable. His friend Lee Davis or "Digger" as he's known in our house, was a role model for Dad in how you can take care of yourself after a heart attack.
I've never been so grateful to have a big family as I am today. My Dad's family was a huge source of strength for him. And they've been like a big old security blanket for us over the last few days. Uncle Bill, Aunt Jeanne, Uncle Thomas and Uncle Richard. Holiday celebrations are a BIG DEAL in our family. The last few days have felt just like a Cunningham holiday...and I just keep waiting for my Dad to walk into the kitchen. He LOVED his family. I am really blessed to have this family that still enjoys being around each other and keeping up with family traditions that my Maw Maw and Dan Dan started many years ago. After my grandparents passed away, the five kids decided to keep the holiday traditions intact. We've spent every major holiday together to some degree for as long as I've been around. Dad was profoundly upset two years ago when that big snow and ice storm forced the family to cancel the Christmas dinner... and I mean like really upset. He later told me, that was the first Christmas in his life that he had not been with all of his siblings. I tried to get him to focus on the previous 64 years but he wasn't having anything to do with it. He was not a happy camper to say the least and pouted like a small child. Dad had a love for his brothers, sister, nieces and nephews that goes beyond words. I know that he is in heaven with my Maw Maw and Dan Dan. They've been gone a long time and I can only imagine the conversations they must be having with each other. I can also tell you that my Granny Bettis is happy to have her Joe with her, too. I said at her funeral and I'll say it here again, today Granny ADORED, WORSHIPPED and LOVED my Dad, to the point sometimes that it made me feel bad for Mom! I can just hear Granny now going on and on about how good he looks since he lost so much weight.
Dad was always supportive of whatever I was doing. Whether it was a piano recital or a halftime band performance, Dad was always there. During homecoming he was on the side line with his fire extinguisher just in case a fire broke out during the halftime show when we were twirling fire. He was at Texas Stadium over Thanksgiving when I was in college and performed with the U of A band. He liked to remind me of that Thanksgiving because he had to eat BBQ in the parking lot of the stadium. He kept me focused when I was pursuing my first television job because he knew how excited I was to start my career...but he was also excited to get me off of his pay roll! Just a few weeks ago, I was offered a new job and when I told him about it he said, "there wasn't a doubt in my mind that they would make you an offer. When you get something in your crosshairs, you've always taken it out." He was my biggest fan. Whether he was coaching Wally's baseball team or sitting through what must have felt like never ending piano recitals for me and Jo'el, we knew we could always count on Dad to be there. He was proud of us. On Thursday in what were some of this last words, Dad was talking to the doctors and nurses about me, Wally and Jo'el and Mom.
When grandchildren arrived on the scene, I saw a shift in my Dad. The big, tough, stern and sometimes down right scary Dad that I knew, chilled out significantly! Thanks goodness!! Corbin, Tro, Keeta and most recently baby Henry brought a big smile to Dad's face. Dad always found the beauty in the unusual things and would often times show up at the house with "gifts" for Corbin. One year at Christmas, he gave Corbin a giant bolt and nut. A few years ago, he showed up with a deer antler and later on a bullet that dates back to the civil war that his friend Ray Cates had found in a field. And of course there was the contraband as he called it...lollipops and Oreo's! The last time I saw Dad in March, he dropped me off at the airport hugged me and shoved three lollipops in my hand and said, "those are for Corbin."
Dad was born in 1947, but his life didn't really start until he was in the first grade. That is when he met the adorable, blonde haired and blued eyed Chloe Bettis. Dad would say, "I found your Mom in the first grade. She sat up front by the door and I sat in the back of the room." I've got some awesome parents. My Dad was my rock and my Mom is my superhero - she's my WonderWoman. But she was both of those things for my Dad. "Behind every great man is a great woman" - that is my Mom. Dad would agree. When Dad was in New York City over Thanksgiving, he and I were having a serious chat and he said, "I love your Mom more now than the day I married her. She's my best friend." There were two peas in a pod. As with any long term relationship, they had their ups and downs. There were some epic arguments usually around tax season that I'm sure Joe Kersey witnessed. They would argue like cats and dogs but somehow by the grace of God and a mash-up of sheer Cunningham-Bettis determination, they found their way back to each other...although it may have taken a day or two or even several weeks.
I'm a big Daddy's girl and I am going to miss that man dearly. I loved him and will always love him. I know he loved me and did the very best job he knew how in raising us. I just hope that I made him as proud as he's made me. It is truly an honor to be Joe Cunningham's daughter.
[+] add comment