News Taffy
News Article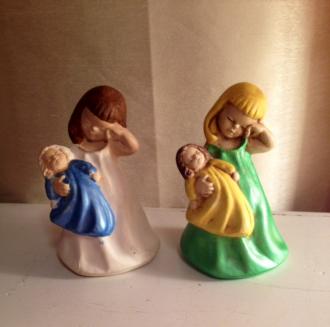 Little Hands' Porcelain Dolls
Have you every had to tell a child to be gentle? Probably. Have you ever had to tell four billion times, like me? Probably. I have said it so many times, but not often have I given a real hands on opportunity.
Last week, I went with my mom and cousin to Goodwill and walked aimlessly around. As I passed the shelf with random glass and porcelain figurines, the idea came to me to find one each for my big girls. It needed to be something small and sweet, but breakable.
I found these two little girls with hair painted the same colors as each of my girls. I brought them home and explained to them that these dolls are sweet and precious, and they were to take very good care of them. They were welcome to play with them and carry them around, but that they will break very easily and should be taken very good care of.
I've been so pleased to see how they care for their dolls. They play with them in their dollhouse each morning, but when they aren't currently playing with them, they sit right on top of their bookshelf. Maybe all my girls needed was a chance to realize they are capable of something that seems so hard most of the time? What about your children? Any chance they could gain a lesson from an inexpensive, fragile toy?
Until next time, Heather
[+] add comment