News Taffy
News Article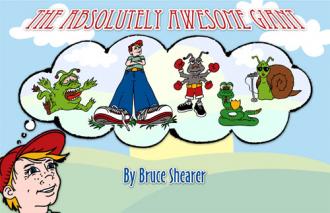 ASU Summer Children's Theatre opens with
The Arkansas State University Theatre will open the 2010 ASU Summer Children's Theatre season with "The Absolutely Awesome Giant" by Bruce Shearer. The giant family had a new child, but he is short-so is he a giant, or isn't he? The audience will travel down the road with the Absolutely Awesome Giant to meet singing snails, a boxing beetle, and maybe even a monster or two, with plenty of fun to be had and plenty of audience participation in store. All performances will be held at Fowler Center, 201 Olympic Drive, Jonesboro. Performance dates are Wednesday, June 23, at 10 a.m. and 2 p.m.; Thursday, June 24, at 10 a.m. and 2 p.m.; and Friday, June 25, at 10 a.m. and 7:30 p.m. This production of "The Absolutely Awesome Giant" is sponsored by the ASU Theatre Guild, a community support group of the ASU Theatre program.

Under the stage direction of Molly Simpson, professor of Theatre, the cast for the season 
opening production includes Lauren Emerson, a senior theatre major from Jonesboro; Brandi King-Bost, a junior theatre major from El Campo, Texas; Elizabeth Pius, a junior theatre major from Abuja, Nigeria; Meghann Oglesby, a radio/tv graduate student from Minneapolis, Minn.; Rob Spencer, a senior theatre major from Paragould; Jordan Seitz, a sophomore theatre major from Little Rock; Abby Robinson, a junior radio/tv major from Mt. Pleasant; Megan Short, a junior art major from Lake City; Ashlea Armstrong, a junior theatre major from Searcy, and Josue Pollnow, a  senior theatre major from Santander, Spain.

The production design team includes scenic design and technical direction by Jeff McLaughlin, assistant professor of Theatre; costume and makeup design by Laura Perkins, instructor of Theatre; lighting design by Charles Monte, a theatre graduate student from Spokane, Wa., and dance choreography by Jordan Seitz. Paul Cootes, a junior theatre major from Hornersville, Mo., will serve as stage manager and sound designer.

All seating is reserved, and tickets for reserved seating may be purchased in advance at the ASU Central Box Office in the Convocation Center or by calling 972-ASU1. Tickets are also available online at http://www2.astate.edu/tickets/--click the ticket icon or the tickets tab in the menu bar.  Reserved seating tickets (if available) may be purchased at the door on the evening of the performance. Ticket prices for ASU Theatre's 2009 Summer Children's Theatre performances are $5 in advance and $7 at the door. Purchasing tickets in advance is highly recommended.
[+] add comment