News Taffy
News Article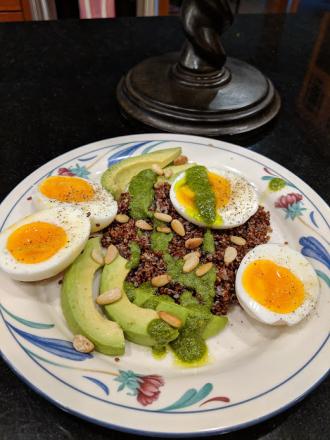 The Cardiologist's Wife - Savory Pesto and Quinoa Breakfast Bowl Recipe
When someone asks what my hobbies are, I'll say things like reading, crafts, traveling, exercising, spending time with my pets and eating good food. I never really thought about it until now but one of my biggest hobbies is looking for recipes and reading about food. I spend countless hours on Pinterest or thumbing through magazines reading recipes. I have gotten pretty good at ferreting out recipes that are worth trying and that my family will enjoy. Of course our tastes have changed over the years. We regularly eat vegetarian meals now but it wasn't that long ago that husband felt he couldn't do without meat. As a result, we seldom eat boring meals because I have a large collection of recipes and we always trying something new and fun.
So many people don't like to cook but I urge you to find the fun and adventure in trying new food and learn to cook with confidence. You don't have to spend hours in the kitchen, you just have to develop some basic skills and be willing to branch out a little. That said, you must try the following recipe! Eggs and avocados go together like a hand and glove and the pesto just sends this dish over the top. We ate it for breakfast but it would be good as a light dinner meal too. Whatever you do, please don't use store bought pesto. It is so awful and homemade is easy - it whips up in about 10 minutes. I'll share my favorite pesto recipe; try using just spinach if you like a milder flavor. Pine nuts are rather expensive but walnuts are a decent substitute for both recipes.
Savory Pesto and Quinoa Breakfast Bowls
4 large eggs
1/2 cup uncooked quinoa
1 avocado
Homemade pesto (see recipe below)
1 Tbsp. toasted pine nuts
1 Tbsp. chia seeds, optional
Prepare pesto. Cook quinoa according to package directions and set aside to cool. Boil eggs to desired degree of doneness. I prefer soft boiled and cook mine for 3 minutes after water comes to a rolling boil. While quinoa and eggs cook, toast pine nuts and slice avocado.
Place a heaping 1/2 cup of cooked quinoa in a bowl or on a small plate. Placed 2 halved eggs on quinoa and arrange slices of avocado around them. Drizzle with 2 or 3 tablespoons of pesto and top with pine nuts and chia seeds. Enjoy! This makes two servings with two eggs each.
Pesto
1/2 cup olive oil
2/3 cup fresh basil leaves or spinach or a combination of the two
1/2 tsp. salt
1/4 tsp. pepper
2 cloves garlic
1 Tbsp. pine nuts
1/4 cup parmesan cheese
Place all ingredients in a blender or food processor and blend 4 to 5 minutes until smooth. Store leftovers in the refrigerator or freeze in a ziplock bag.
I toast my nuts in a toaster oven but you can easily toast nuts by placing them in a small, dry skillet over medium heat for 2 to 3 minutes until they are browned and giving off a rich fragrance. Watch them carefully and stir frequently so they don't burn. The leftover pesto can be used in a variety of way: toss with pasta for a light lunch, spoon over cooked fish or chicken or use as a sandwich spread. Any leftover quinoa keeps well in the refrigerator can be used in a smoothie or added to oatmeal.
[+] add comment