News Taffy
News Article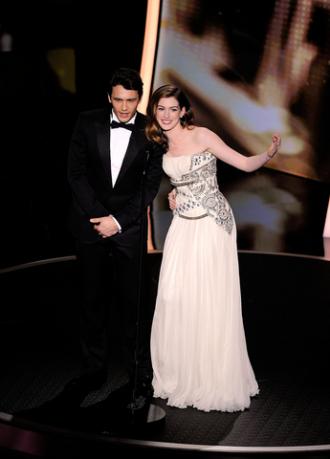 The Academy Awards: Hits and Misses
Like many of you, I spent much of my evening last night watching the Oscars, and as is the case with most (if not all) major award shows, there were definite hits and definite misses. For me, the biggest miss was the hosting. James Franco appeared to be out of his mind (a.k.a. on drugs), and Miss Hathaway had trouble announcing anything without adding a "Woo!" scream afterwards. Was she trying out for Glee? Was I the only one praying that Billy Crystal would just keep the mic and finish hosting the show? I doubt it. A few more misses in my book were: Christian Bale's orange beard, Melissa Leo's doily of a dress (not to mention her F-bomb), Gwenyth's "singing" and the fact that Scarlett Johansson must have lost her hairbrush.
Of  course, there were many people who made the show worth watching. Reese Witherspoon and Natalie Portman both looked amazing, Kirk Douglas was unexpectedly hilarious and True Grit's Hailee Steinfeld was adorable and age appropriate.
Here is what a few of our Facebook and twitter followers had to say about the 2011 Academy Awards:
@christy_herself tweeted: @jborooccasions the hosts were horrible; Colin Firth's acceptance speech was great, as was Luke Matheny's (best live action short film).  As to outfits - I loved Reese Witherspoon's look, hair & all. I really did not like Cate Blanchett's dress.
Carmen Fogleman Teague (via Facebook): Best Oscar Moment? Kirk Douglas was great!
@ioMetro tweeted: After the OSCARS, I can't get GOLD off my mind. Mix GOLD w/ Grays + Neutrals to create a Fresh, Progressive Look http://tinyurl.com/4v3vdx2
@disasterous007 tweeted: If I were in charge, Morgan Freeman would win all oscars, even for movies he wasn't in.
@Superhog tweeted: I haven't seen The Kings Speech, but how can you make a period film not feel like a it's been done before? Fincher should have won.
Damien Farris (via Facebook): I liked Reese Witherspoon's dress. She is always classy. 
@StyleClone tweeted: @jborooccasions The worst outfit had to go to Melissa Leo for her Elvis style dress...definitely a no no!
@poniewozik tweeted: At what point are we allowed to stop politely pretending that Gwyneth is a singer?
@timjeby tweeted: Modern Family promo may have been the best moment of the #Oscars.
@loonyluna48 tweeted: Finally Inception won something
@savannahallred tweeted: Ugliest dress goes to…that woman in the black pleather
@B_gregory tweeted: The Oscars suck. Off to bed I go.
@jbiggy80 tweeted: I would tell you how bad Gwyneth Paltrow is but she's singing country music and all county is terrible!
If you aren't already, friend us on Facebook and follow us on twitter @jborooccasions.
[+] add comment
What was up with Franco? He seemed to be completely out of it! I did love Marisa Tomei's dress! However, over all, this years Oscars were not worth missing that extra sleep.