News Taffy
News Article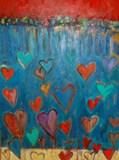 Eventful - The 2011 Heart Gala
Last Friday evening, 135 people gathered at the Hilton Garden Inn for the 2011 Jonesboro Heart Gala; the event raised money for the American Heart Association's research and heart disease prevention programs. The guests were glammed out, the dinner was tasty, the decor was elegant, the music was fun and the bids were flying. The theme of the Gala was "Shower of Hearts" and featured a fun and colorful painting by local artist Paula Wewers.
Brandi Adams, Marsha Carwell and Kelli Register served as the three co-chairs of the event. The Heart Child honoree was Teagan Hesch and the Gala Honoree was Ted Herget. Both of their amazing stories, combined with the generosity of both the community and philanthropic leaders in attendance and the goodwill of all the local businesses who either sponsored or donated items and services to the event, helped raise more than $40,000 for the American Heart Association.
A big thank you to all who made the event such a success; I know that I am already looking forward to the 2012 Jonesboro Heart Gala! Make sure you check out the May issue of Occasions and the Event Photos on Jonesboro.com for more photos from the gala.
[+] add comment
I had such a good time and it was the prettiest the Heart Gala has ever looked!!!
This was our first time to attend this gala and it was wonderful, we were so happy to bid on all the great items to support the AHA and we were very impressed with the food, decor and the program, Teagan Hesch's story was amazing and her family has been so blessed and it's great to have someone like Ted Herget in the community promoting health and wellness! Great job!