News Taffy
News Article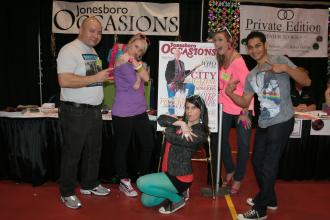 Eventful - The 2011 Business Expo ROCKED
Yesterday, April 7, our crew here at Occasions Publishing Group was able to spend the entire day at the 2011 Business Expo, and let me tell you, we had a blast. The theme for this year's expo was "The Business Expo Rocks," which was a continuation of the Jonesboro Chamber of Commerce's membership drive earlier this year. There were many different ways to interpret this theme; we saw Lady GaGa, Kiss, heavy metal rockers, peaceful'60s rockers and even a Flinstones-inspired crew (bedrock…get it?). Occasions Publishing Group decided to go with '80s pop-rock (see photos), which we had such a fun time with. I don't remember the last time I wore so many plastic accessories! The Business Expo Chair, Lorie Bryant, even stopped by our booth to take a photo with her "magazine cover" that featured her photo from our April issue (see photo).
After a yummy breakfast at 7 a.m., we spent several hours networking and learning more about what seemed like countless other businesses from all around Northeast Arkansas. If you stopped by our booth on the second floor, you could have picked up a copy of our April issue of Occasions and our Spring issue of Faith and Family. We also handed out mouse pads, golf tees and other fun gadgets, and we were very excited to hand out information about how to create free business pages on Jonesboro.com, our website for and about everything Jonesboro. (If you missed us at the expo and want information about how to set up your FREE business page, email me at ahanes@jonesborooccasions.com.)
During lunch, which was wonderful, we had the opportunity to hear an inspirational talk by ASU Head Football Coach Hugh Freeze . He will definitely make you want to find your "it." (See photo Audrey Watkins, Occasions' Publisher and Editor, shaking Freeze's hand.)
With the afternoon came the hundreds of people who were able to attend the Business Expo for free; they got to find out more about all of the businesses there, and the fun freebies like notepads, ice cream and trees weren't too bad either.
If you stopped by our booth, thanks for coming out, and if you didn't get the chance to attend, we look forward to seeing you next year! Stay tuned, because our May issue and our May Event Galleries on Jonesboro.com will feature many more photos of all of the other booths at the expo. 
[+] add comment